Warm Corn Salad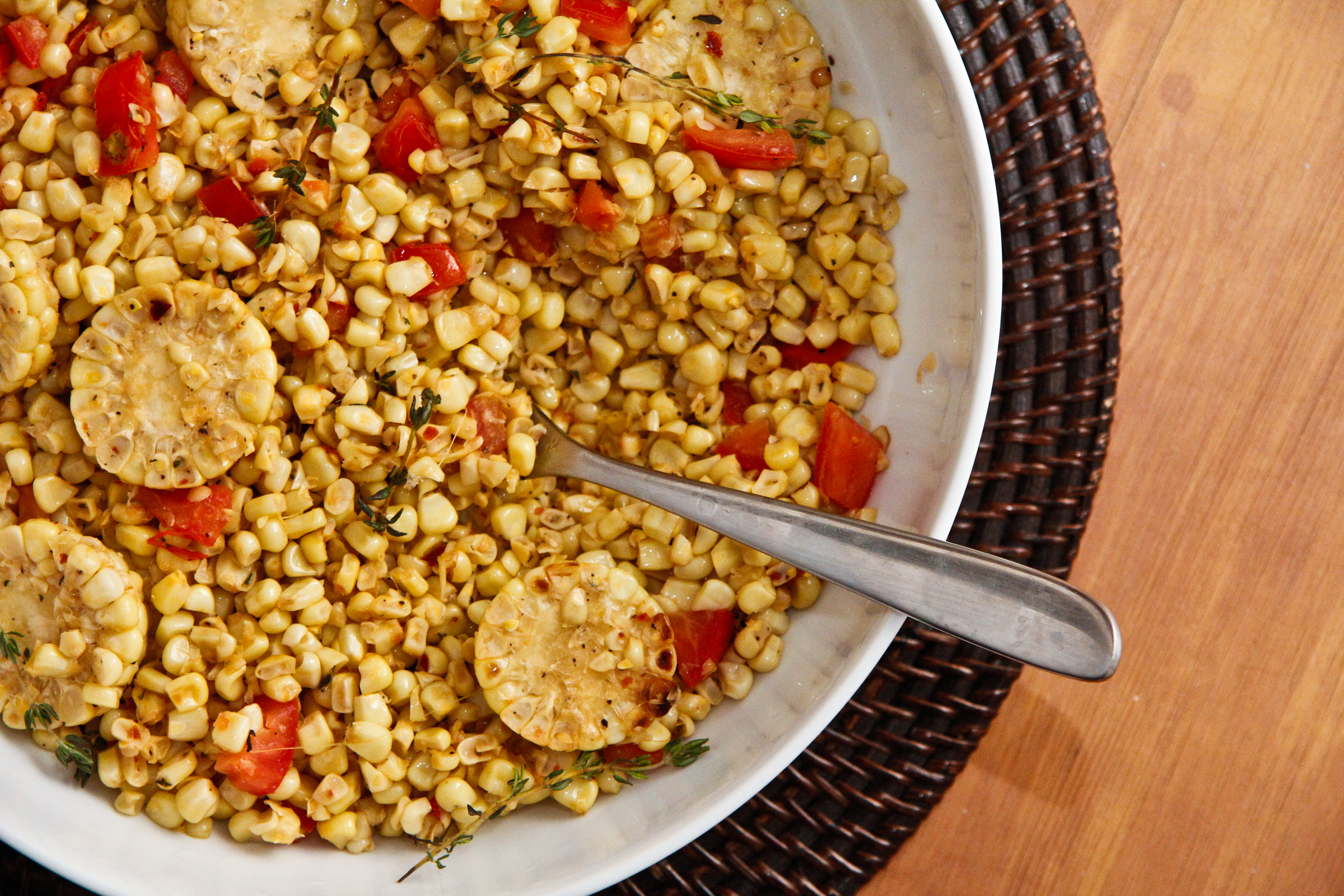 I'm always on a mission to find or create dishes that can be taken to go, such as my orzo salad with roasted tomatoes, or potluck pesto pasta. Whenever I get invited to a potluck party, I try to make something that can get along well with all the other dishes on the table, especially if there is no specific "theme" in mind. On top of that, I like to cook in season, so when I went to my last potluck, corn was in abundance. I think I got 6 ears of corn for around 2 bucks.  
When something is this available and cheap, you can almost always bet that it will also be at the height of its tastiness. This was true with the corn I bought, therefore, I really didn't have to add anything to it. But then that wouldn't be much of a recipe now would it?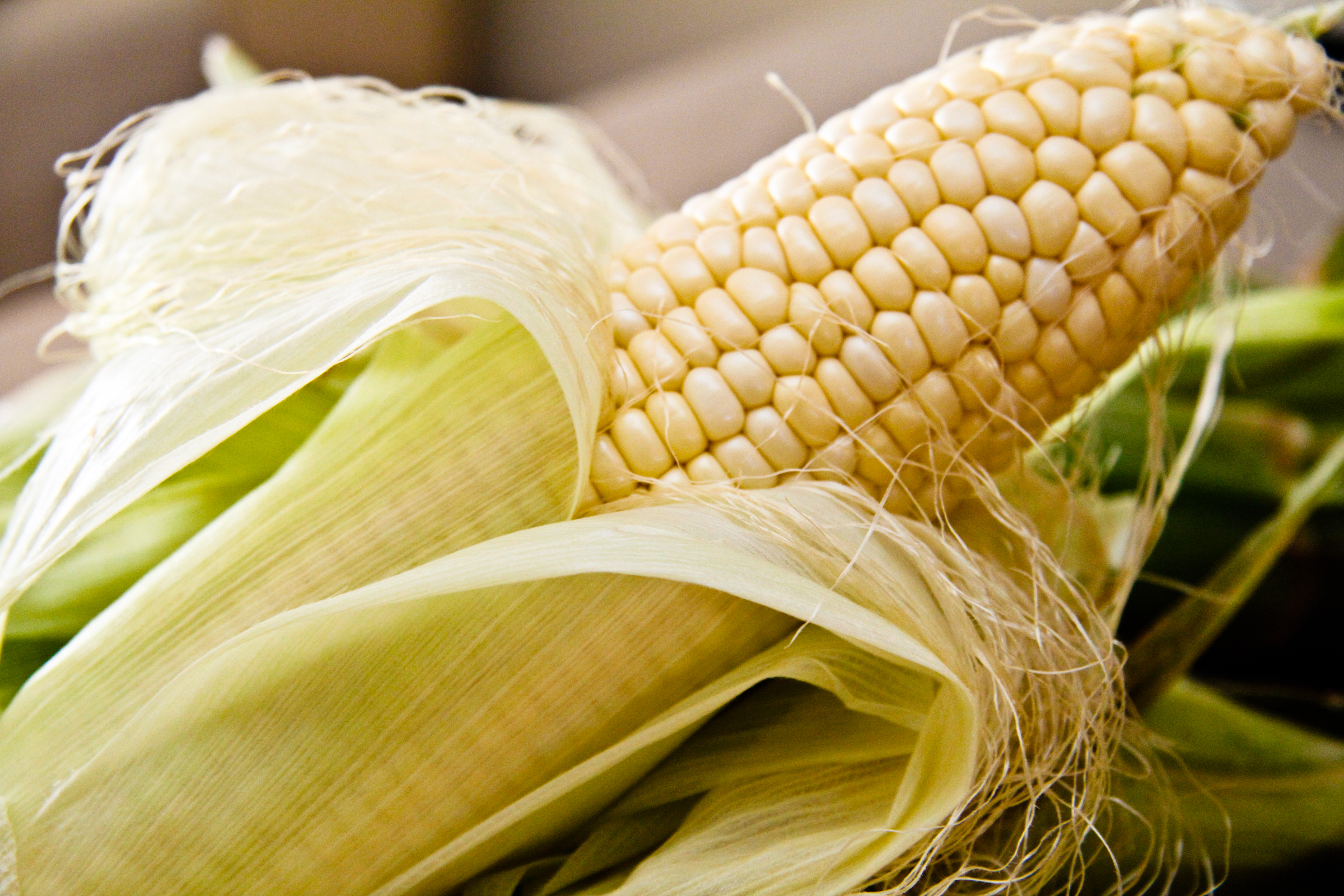 I guess you can really call this a "warm corn salsa," or "corn and tomato side dish." But for some reason, I couldn't get the name "warm corn salad" out of my mind, so there you have it.
You start with the freshest corn you can find and strip it. Or you don't have to be high maintenance like me, and if it's out of season, just buy frozen ears of corn, already shucked….aw shucks!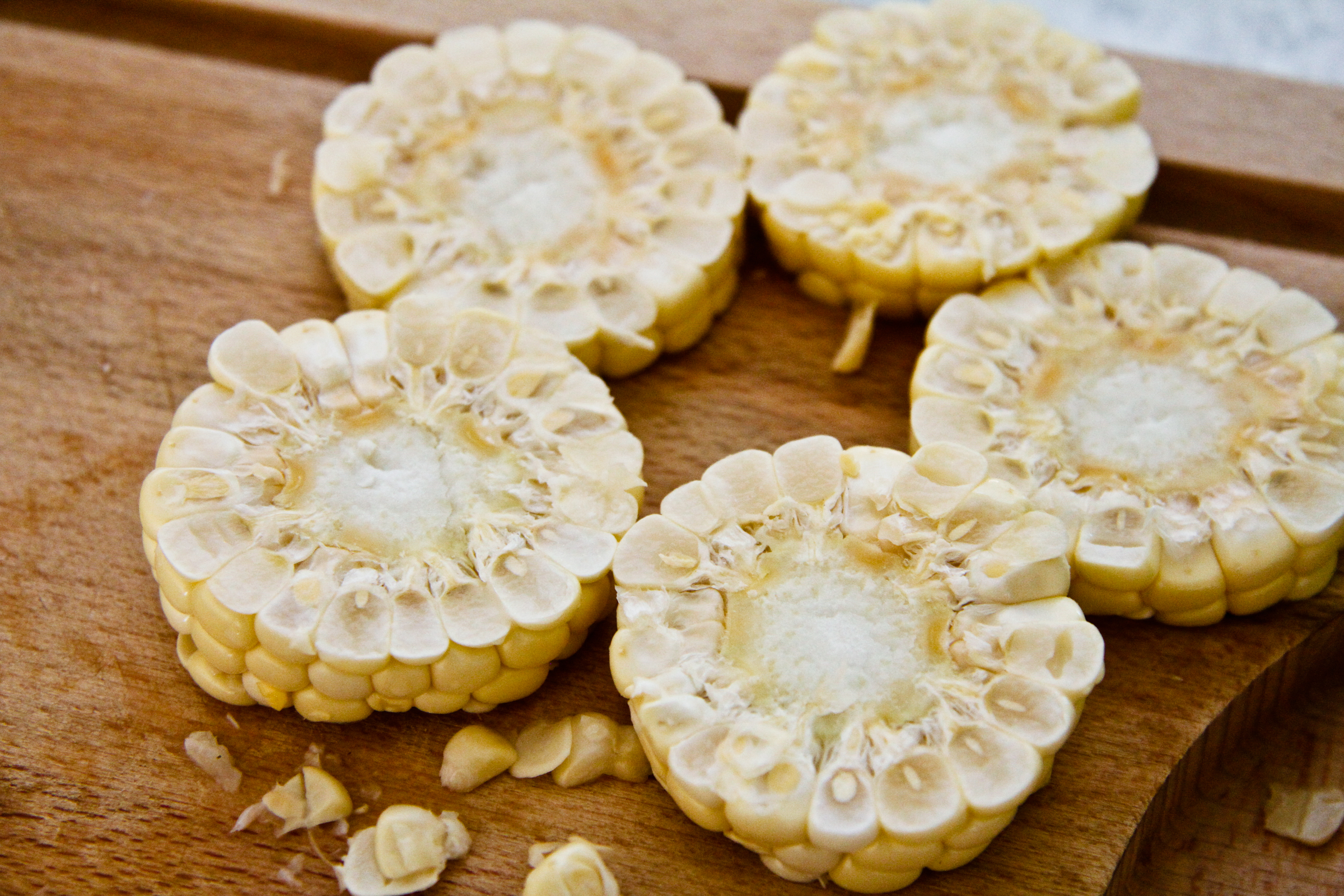 Cut off the very bottom, to remove any stem, and then if you want, cut off a 1/2″ round slice from each ear, to add to the presentation of the dish. For my photos, I ended up cutting quite a few rounds.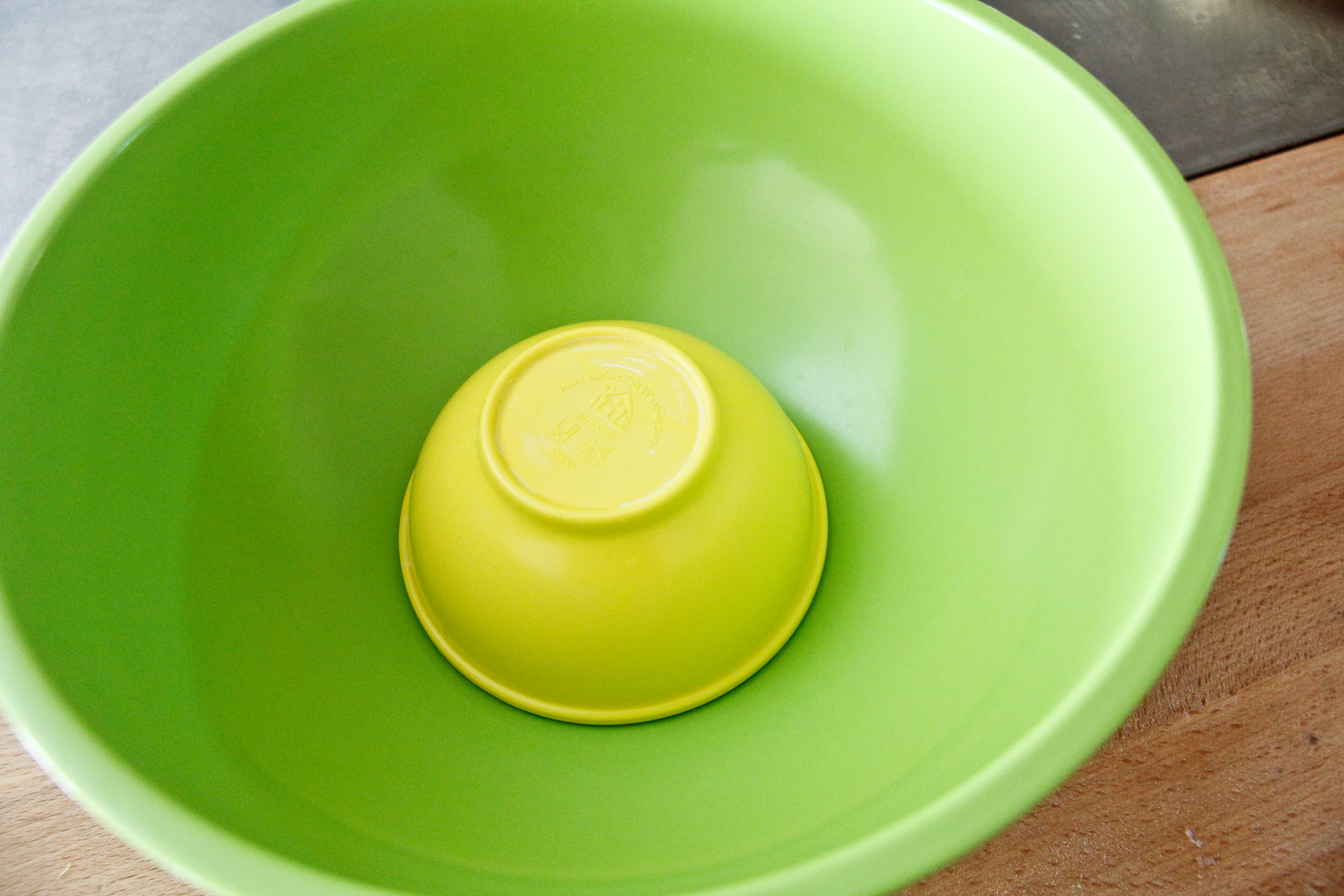 My friend Ashley reminded me of this tip she got from Rachael Ray: Place a small bowl upside down within a larger bowl. This will act as an elevated pedestal you can rest your corn on, so it's easier to cut the kernels off without them bouncing all around your cutting board or the floor.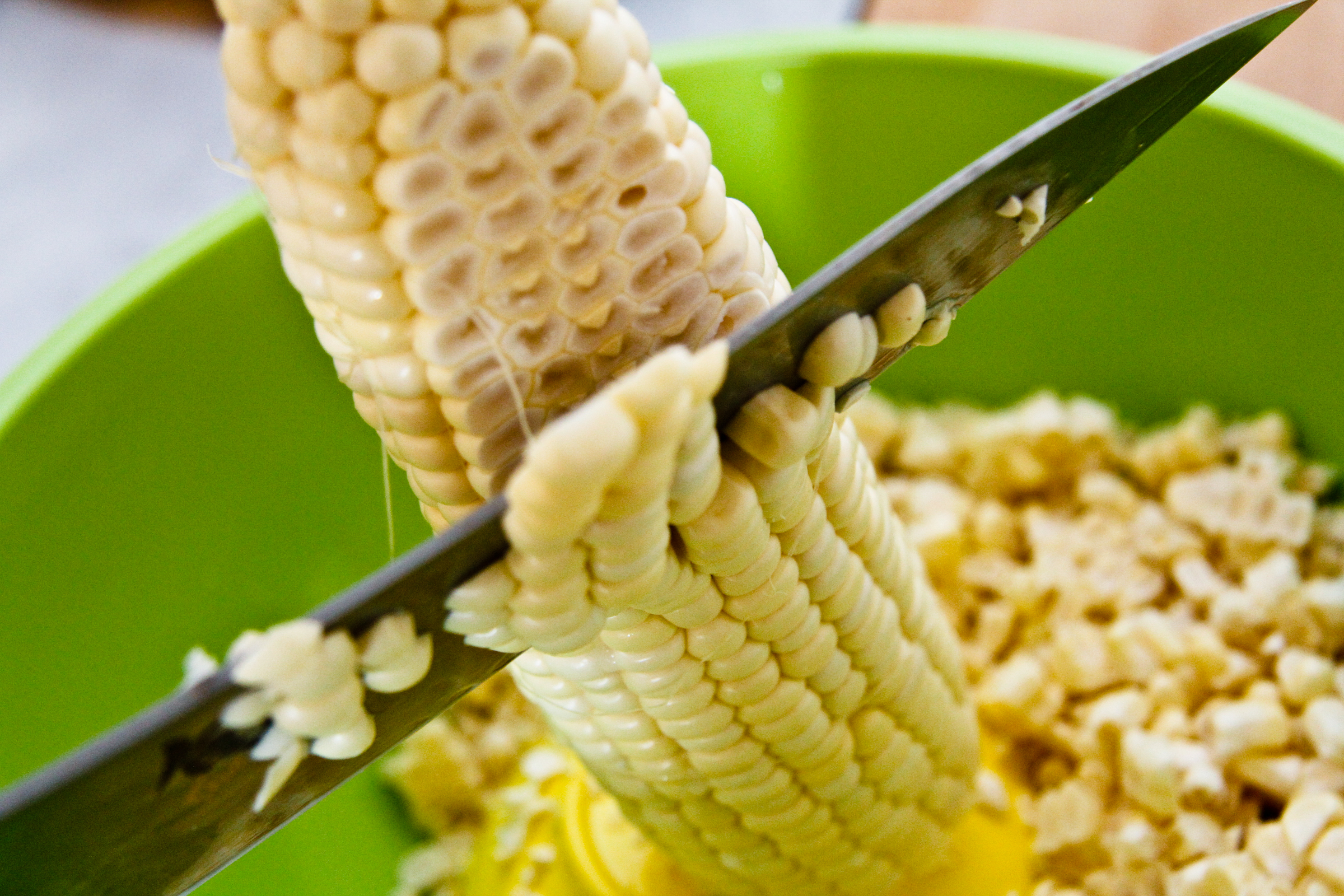 After the kernels are sliced away, gently scrape the cobs with your knife to catch some of that milky corn juice. You might not really be able to see it, but scrape anyhow!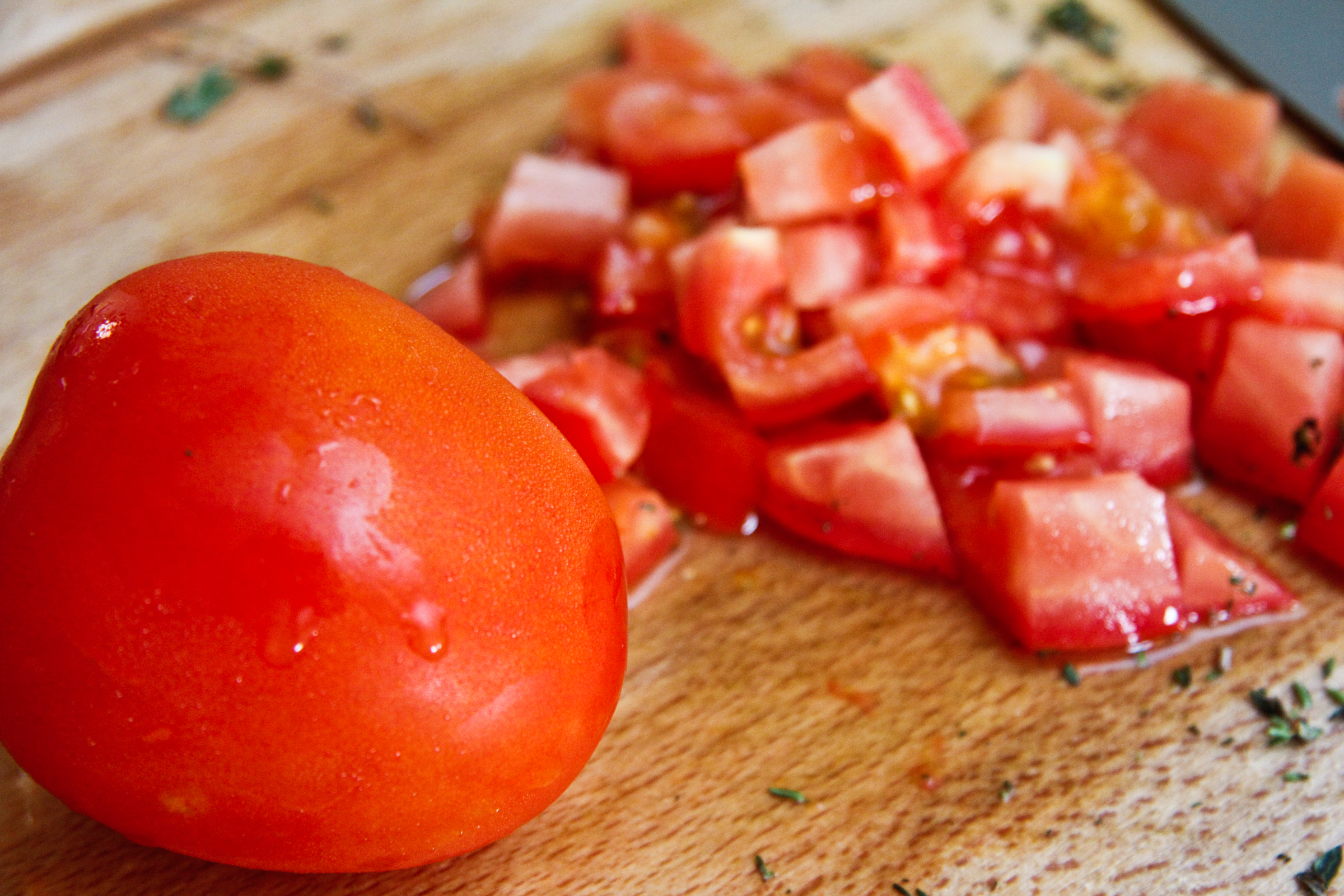 Then you get all your other ingredients prepped. Chop the tomatoes…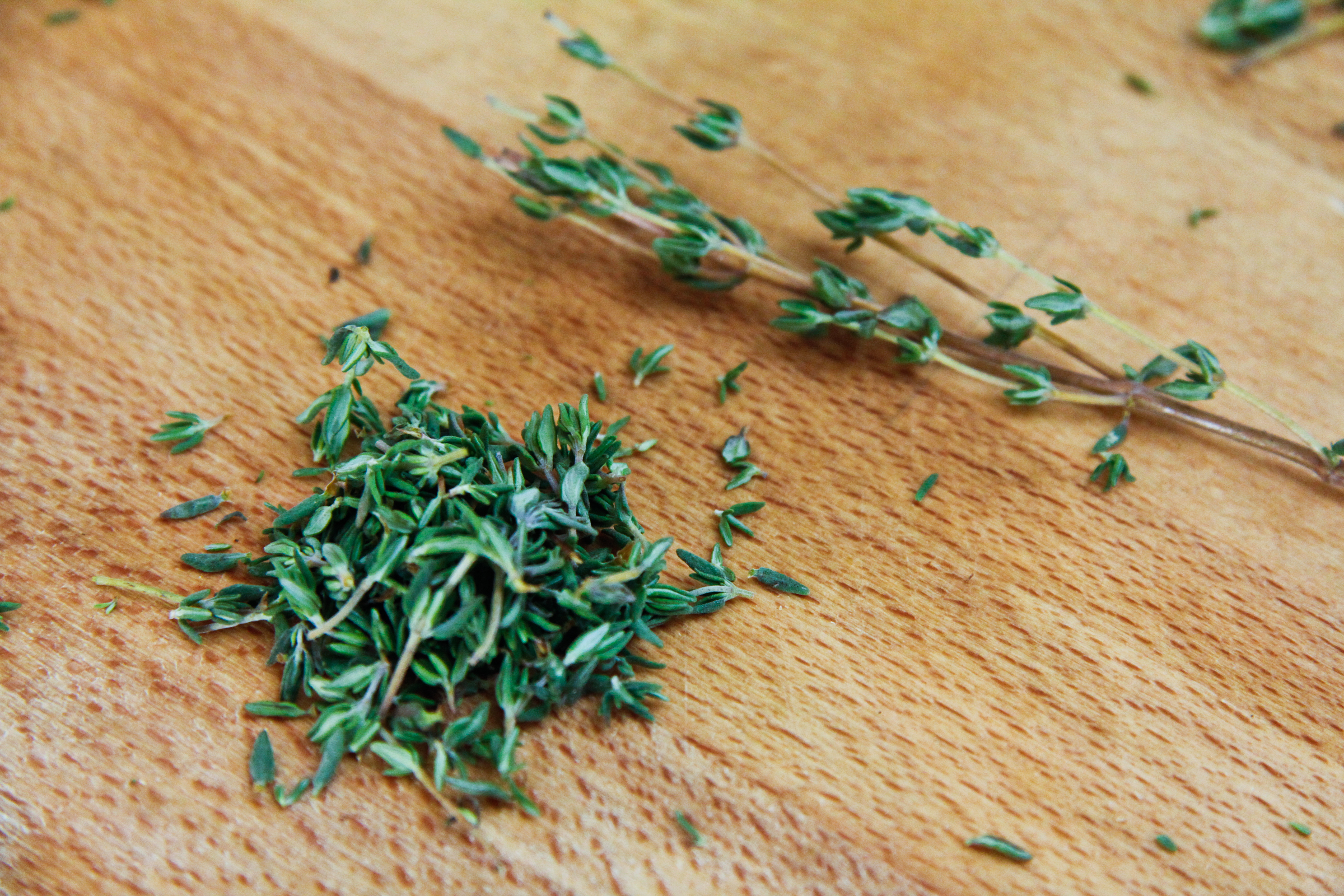 and mince up fresh thyme. Oh, and if you don't have fresh thyme, used dry, but just cut the measurement in half for dry, since it's more potent than fresh. But in my opinion, the fresh thyme makes it look prettier too, so I suggest using fresh for aesthetic purposes.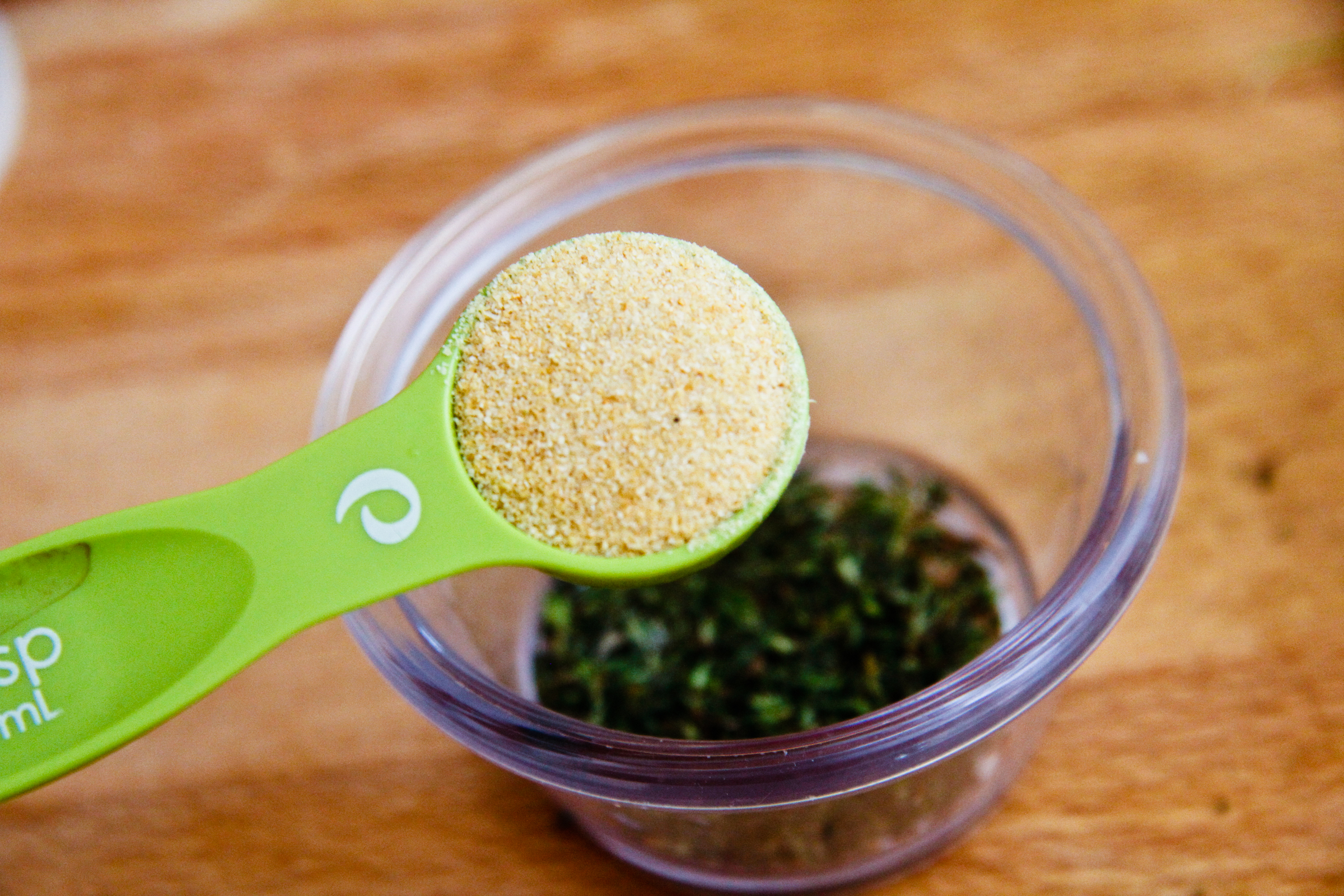 Add your chopped thyme to a bowl and mix in your seasonings such as garlic powder, salt, pepper…
and crushed red chili flakes, which will add a nice spicy kick.  Notice my big jug of chili flakes?  Yeah you know how I do!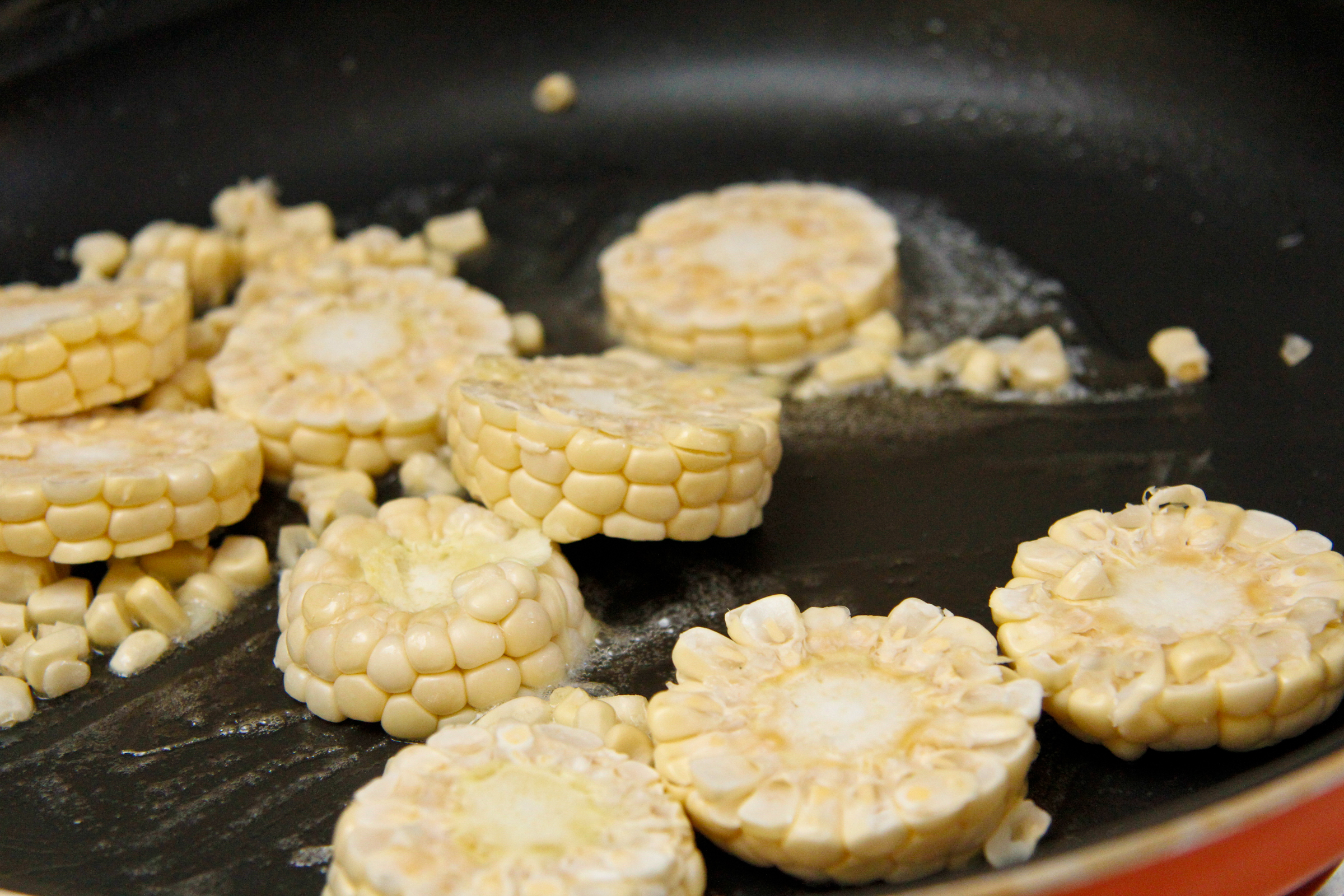 Then butter and olive oil go into a hot pan and the flat corn disks go in first. After a few minutes, dump in all the kernels.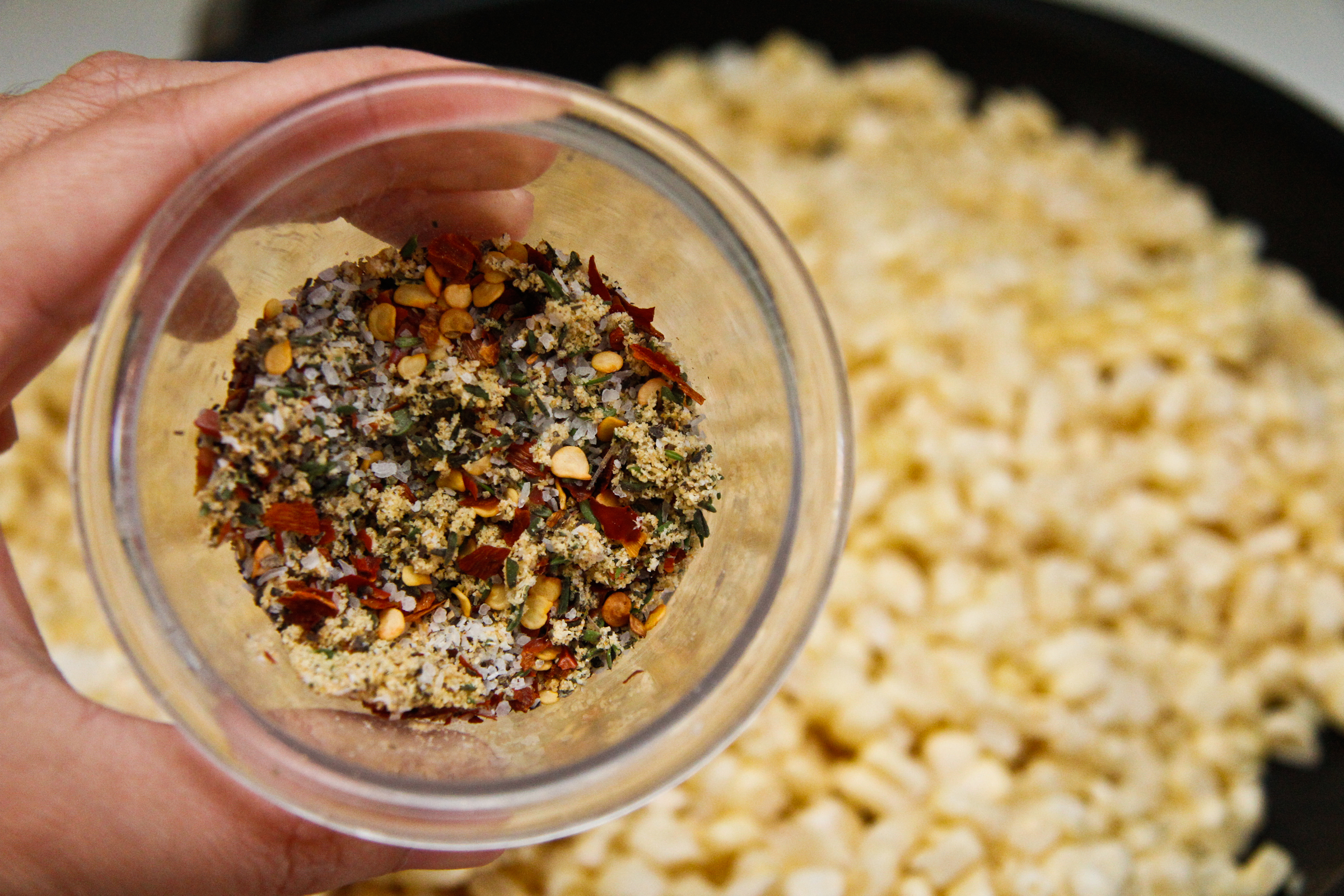 Add your seasonings and mix well.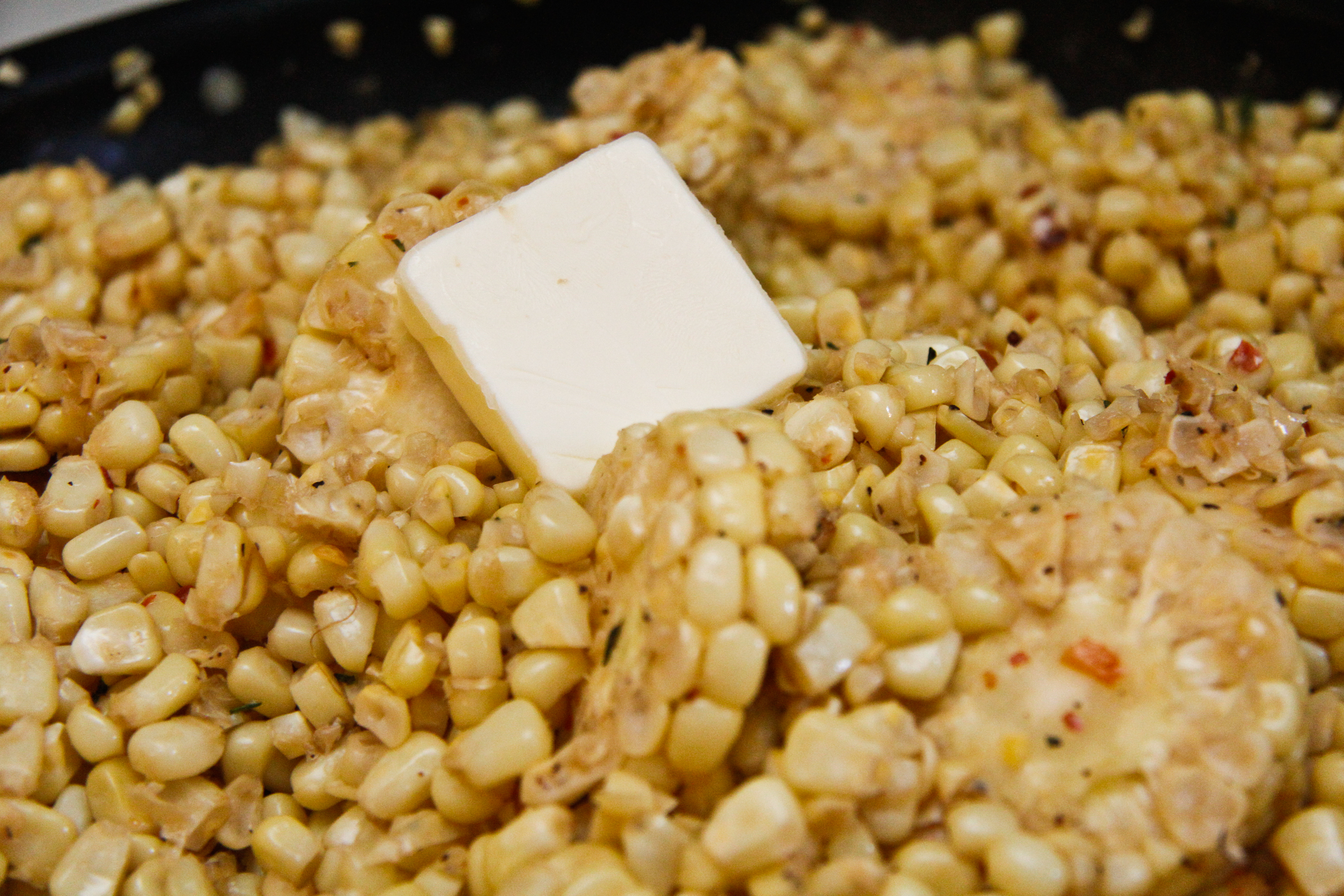 Then swirl in your last square of butter, just to make sure everything is nice and velvety.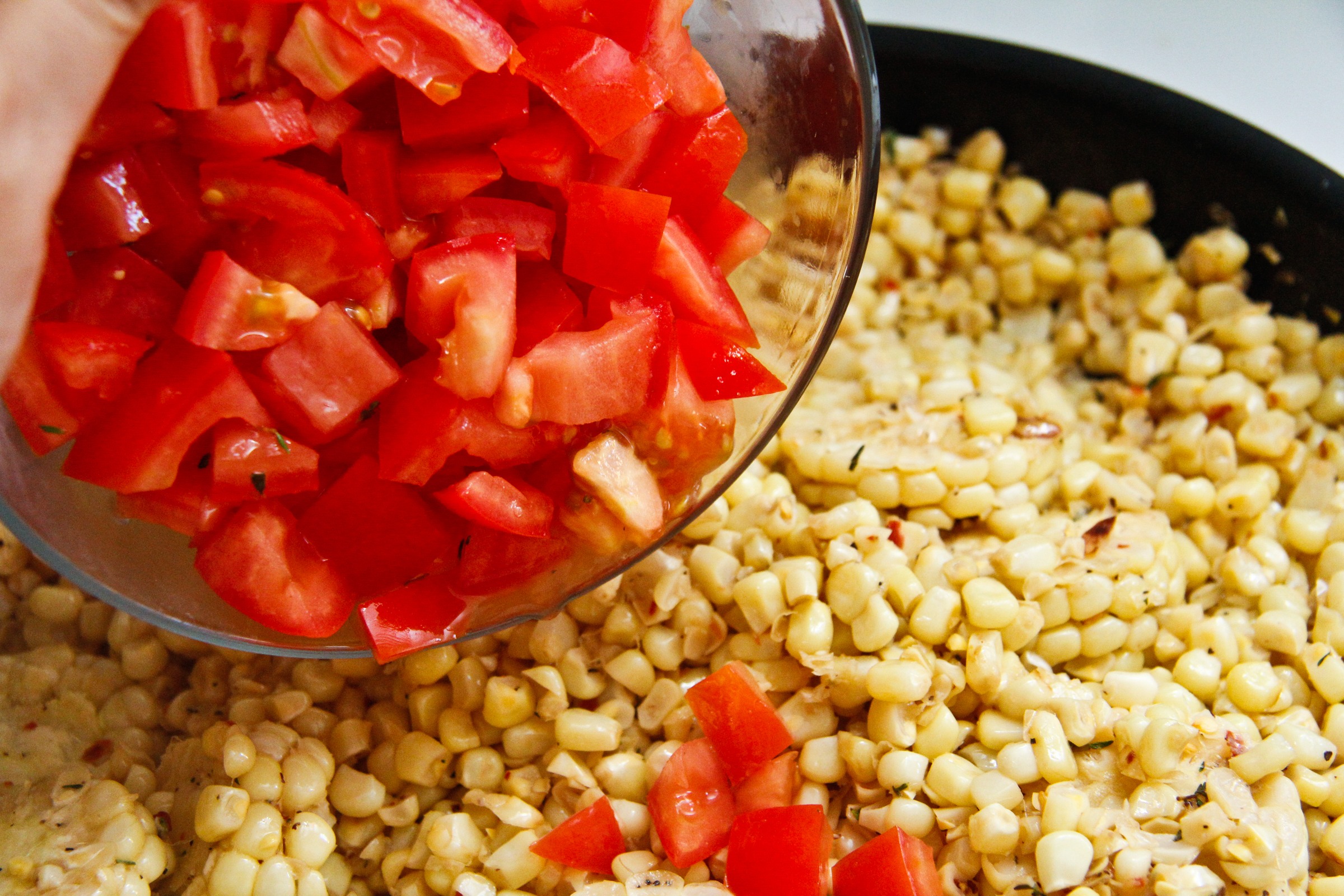 Turn your heat off, but keep the pan on the hot burner.  Tumble in your tomatoes, and stir. Let the heat of the corn just slightly soften that tomato. Taste, and adjust seasonings with any extra salt if needed.
Then adorn with sprigs of thyme and eat!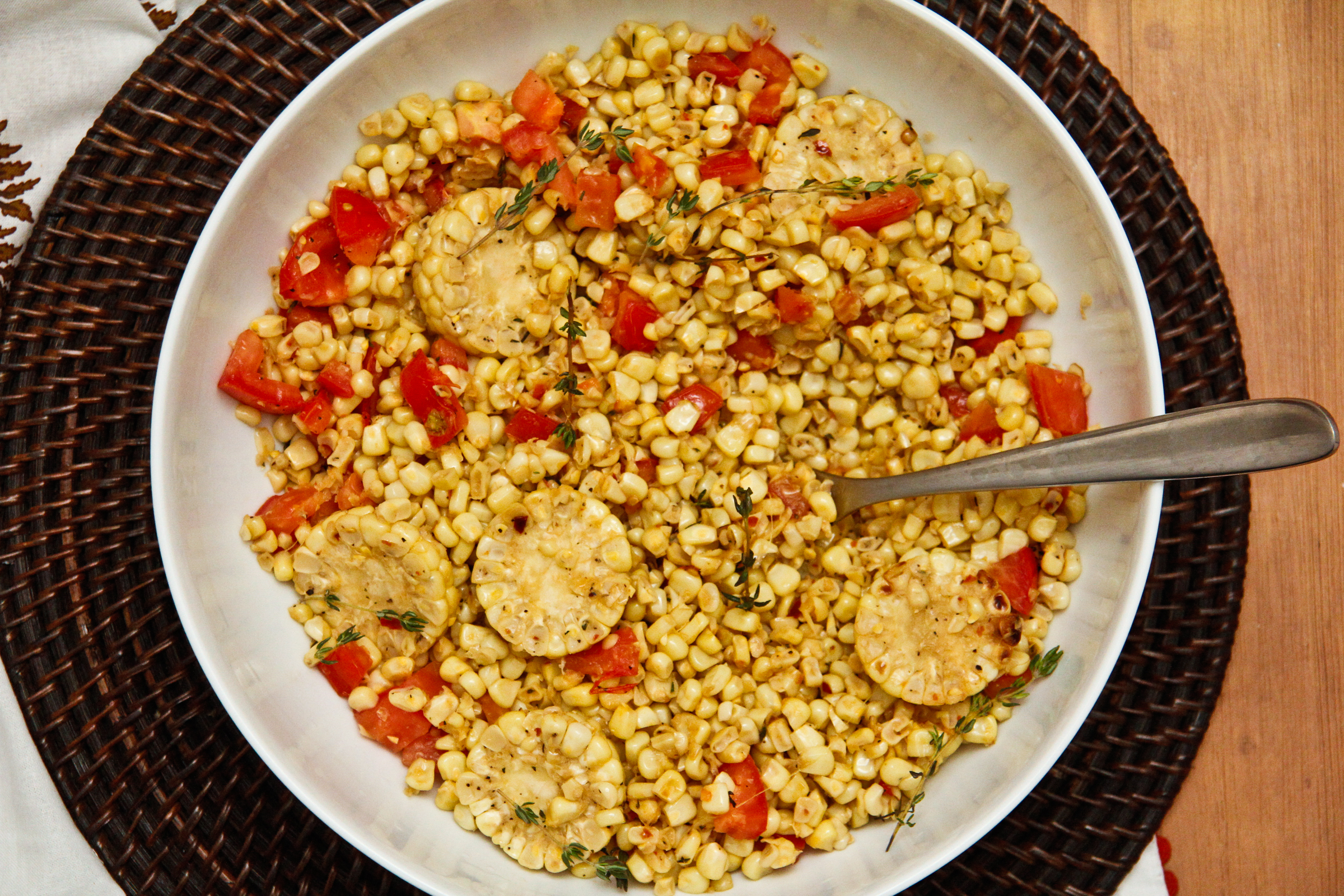 If you're taking this to go, just dump everything into a bowl and add the sprigs of thyme on top. Then cover immediately with aluminum foil to trap in the heat. By the time you get to your party, it should still be warm, and everyone can eat this with just about anything! The taste is robust, yet neutral enough to go along with practically any kind of dish.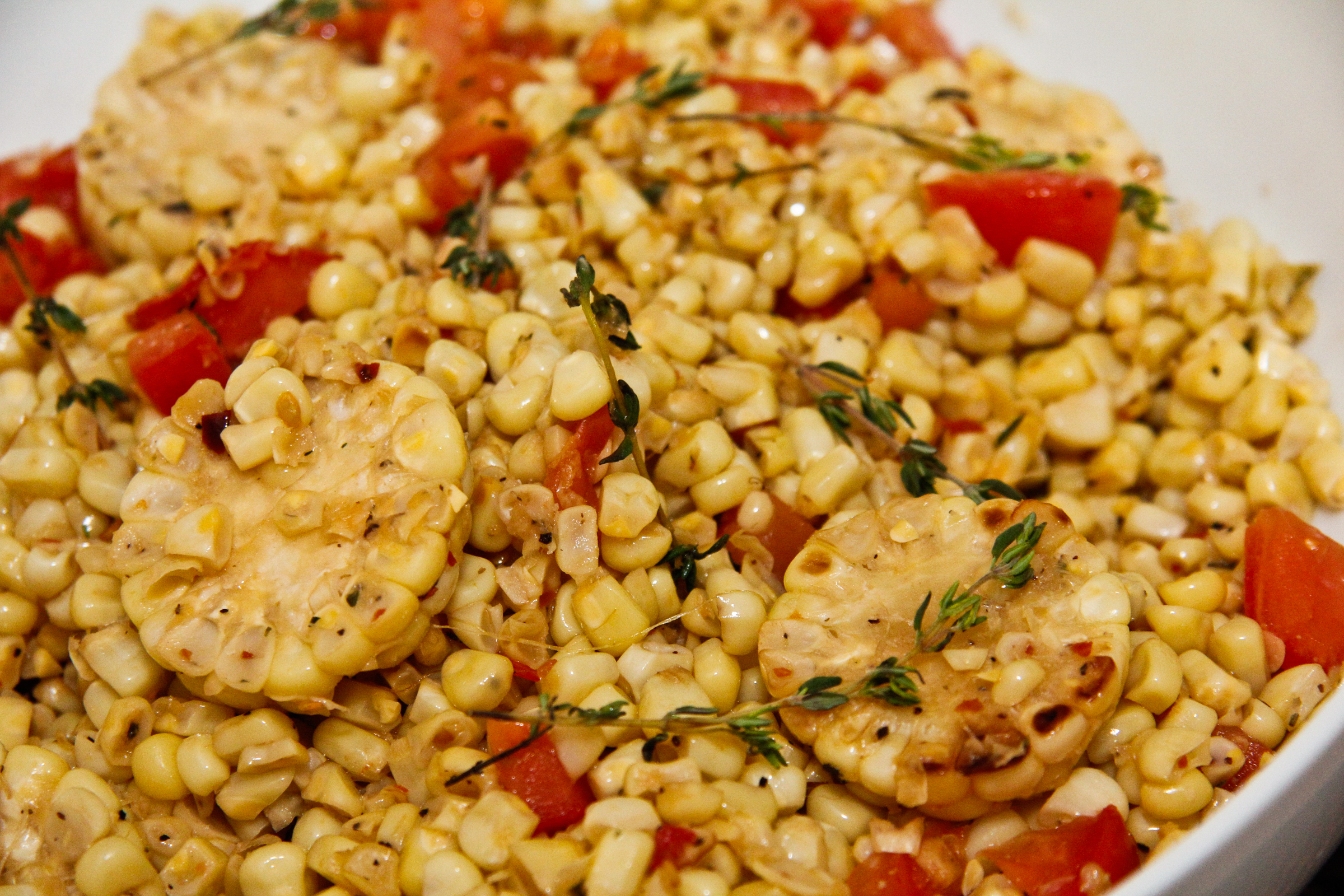 It's sweet, with a hint of acidity from the tomatoes.  The thyme is lemony-fresh, and the garlic and chili flakes give it a little boom boom pow!  At the potluck we went to, it was all gone in a lickety split.  In fact, I even filmed a vlog of our potluck party, so stay tuned for the video.  In the meantime, enjoy this cornlicious dish for yourself.  And remember it for when Thanksgiving rolls around.

Warm Corn Salad
This side dish would be good for Thanksgiving or any day of the week.
Ingredients
6 ears of fresh corn, shucked
3 roma or plum tomatoes
1 teaspoon chopped fresh thyme, plus some sprigs for garnish
1 teaspoon kosher salt
½ teaspoon black pepper
1 teaspoon garlic powder
½ teaspoon crushed red chili flakes
2 Tablespoons unsalted butter, divided
1 Tablespoon olive oil
Instructions
Remove the husks of your corn and cut off the bottoms to remove any stem. If you want, cut off a ½" round slice from each ear, to add to the presentation of the dish, but this step is not necessary.
Place a small bowl upside down within a larger bowl. This will help you stand your cob upright as you slice, as well as catch any kernels as they fall. After the kernels are sliced away, gently scrape the cobs with your knife to catch some of the corn "milk."
To a small bowl, add your chopped fresh thyme, as well as salt, garlic powder, black pepper, and crushed red chili flakes.
Heat a large pan and add 1 Tablespoon of butter, along with 1 Tablespoon of olive oil. Add the optional corn rounds first, and after a couple minutes, add the rest of the kernals. Sprinkle on the seasonings and mix well. Cook until the corn is slightly softened, then mount with the remaining Tablespoon of butter.
Turn the heat off, but keep the pan on the hot burner. Fold in the diced tomatoes and let the heat of the pan soften the tomatoes slightly. Taste and adjust the seasonings with extra salt if needed. Transfer to a serving bowl and garnish with fresh sprigs of thyme. Serve warm.
TIPS: If taking this dish to go, just wrap the bowl with aluminum foil while hot to trap the heat and serve at room temperature. Also if using dried thyme, just use ½ a teaspoon. For a twist on this recipe, also try adding a squirt of lime and some chopped fresh cilantro!