Chicken and Broccoli Burrito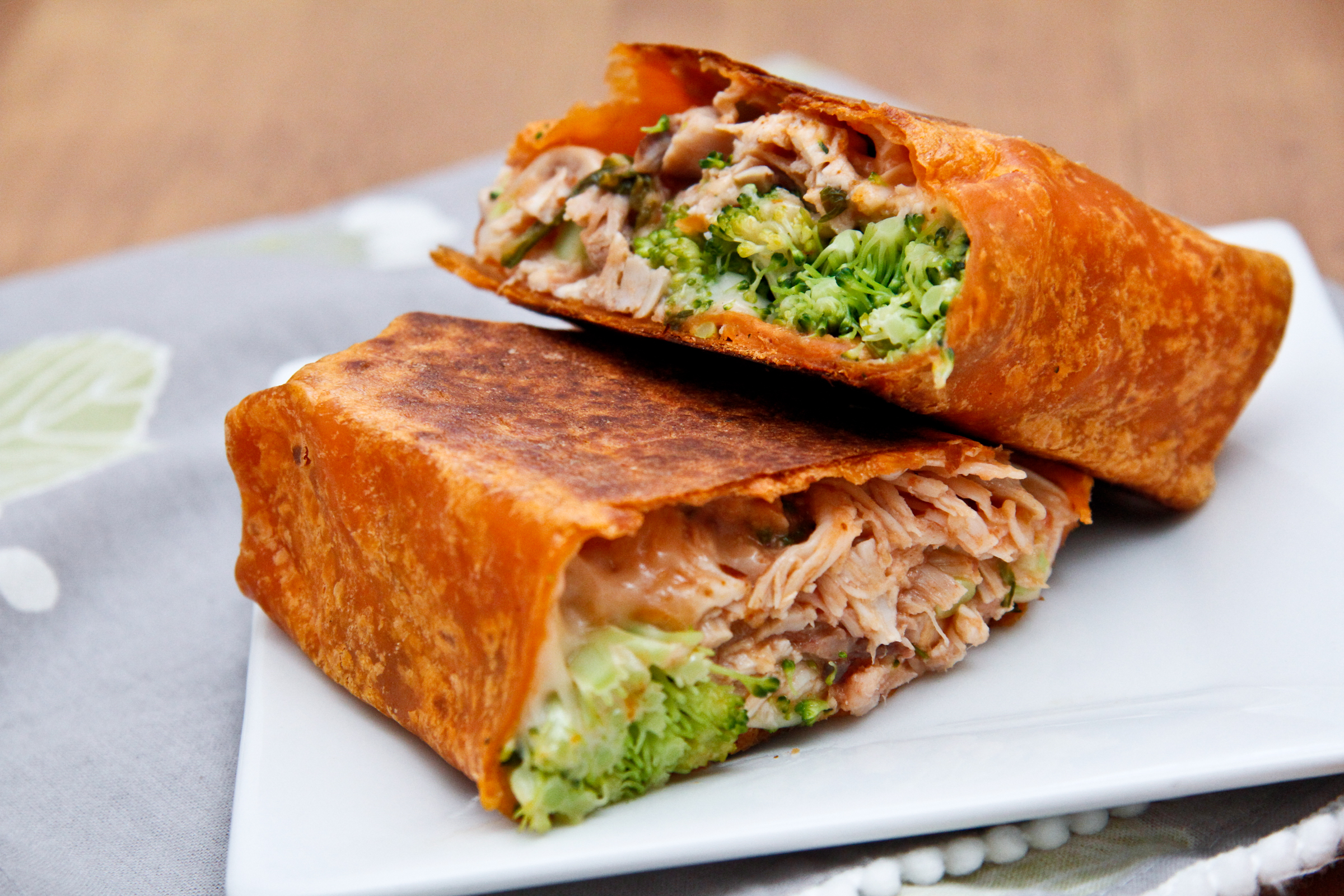 This is a burrito for one… one very lucky person. But I was nice and made two, so that my husband could enjoy one too. Everything came together so quickly, thanks to a little help from my trusty Costco rotisserie chicken. But broccoli in a burrito? Oh yes, my little skeptical friend. Indeed, broccoli is the perfect compliment in a cheesy hot burrito, and more nutritious than shredded lettuce. Well, actually, since it's smothered in cheese, never mind the nutritious part. But it's okay, you'll still be happy!  
When I was a kid, my friends and I sometimes played in their parents' deli. Their mom would make us an extra special not-on-the-menu sandwich which involved sliced turkey, melted cheese and steamed broccoli! Maybe that's why this delicious combo stuck in my memory.
But instead of a hot sandwich, I wanted to make use of these delicious tomato tortillas that my friend, Janice thoughtfully picked up for me from her work. Long story, but some guy came to their office and dropped off tons of freshly made tortillas from his factory, and she was thoughtful enough to snag me two big packs!  But you can of course use whatever tortilla you have, as long as it's big.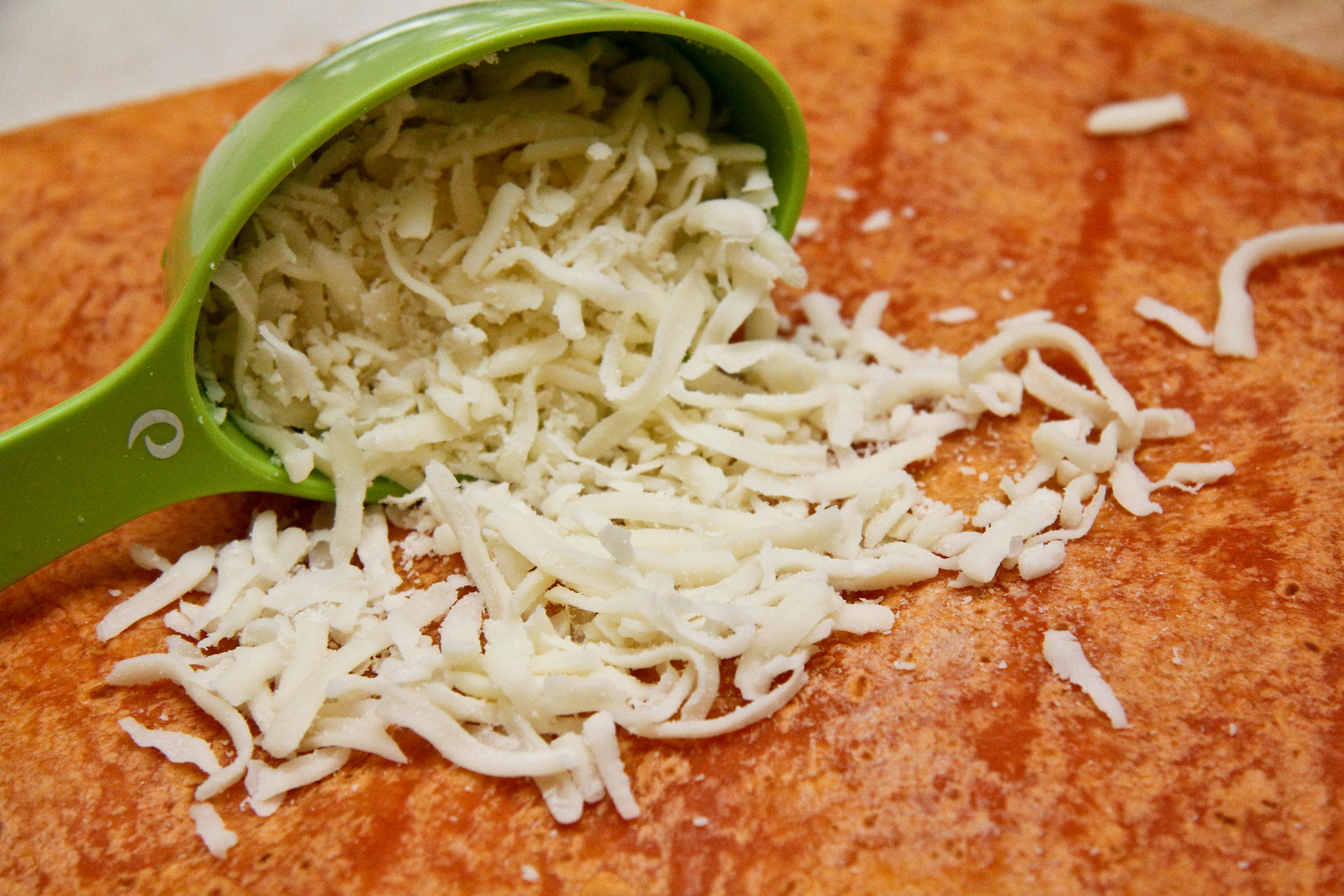 Divide 1/2 a cup of shredded mozzarella in half. So put about 1/4 cup of it in the center of your tortilla.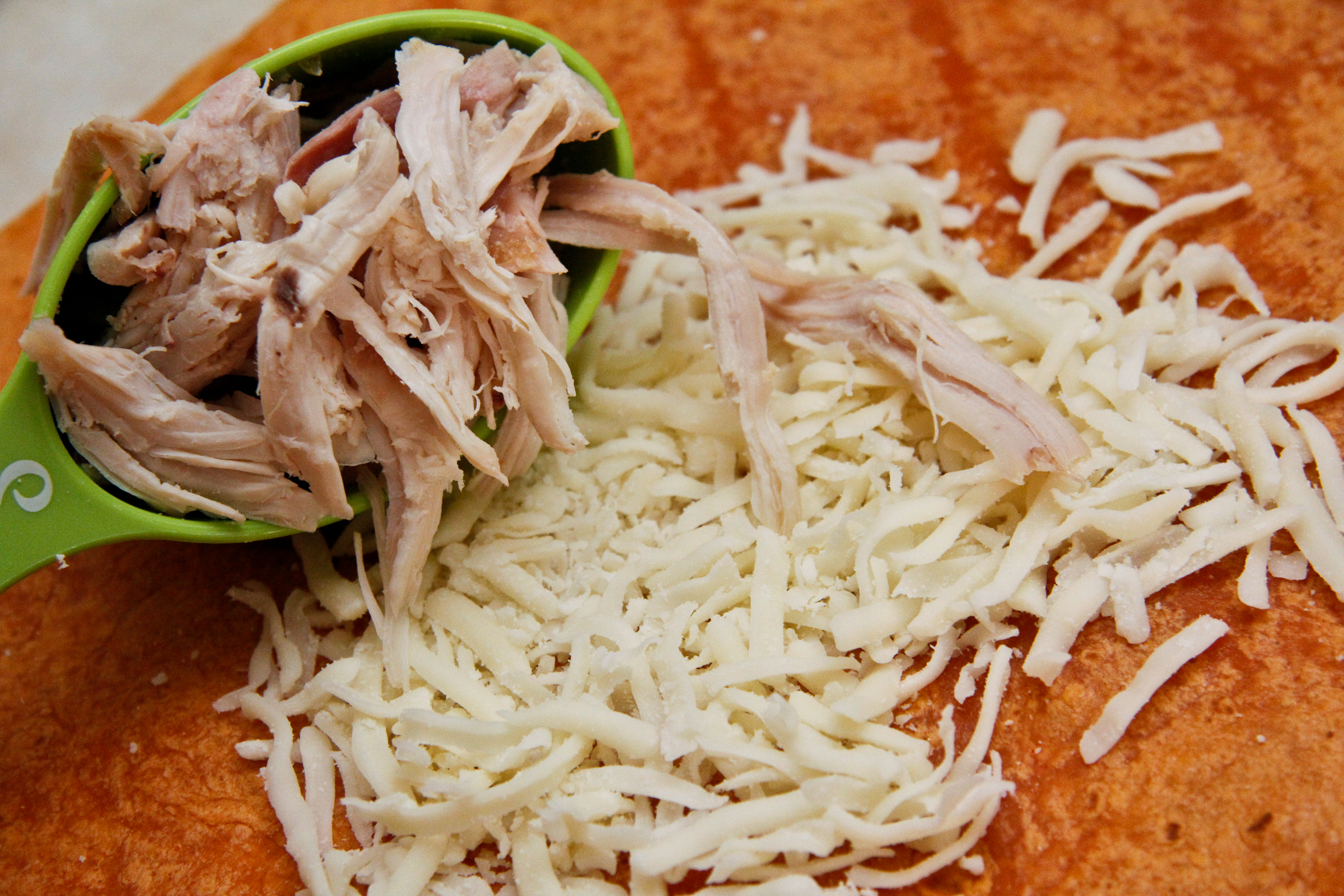 Then scatter on your shredded rotisserie chicken right on top.
And here is my secret weapon of choice.  This little jar of pineapple peach salsa from Target is what makes this burrito extra EXTRA special.  It's still tomato based, so it tastes just like a great salsa, except there's a hint of sweetness, which really seasons up that broccoli well.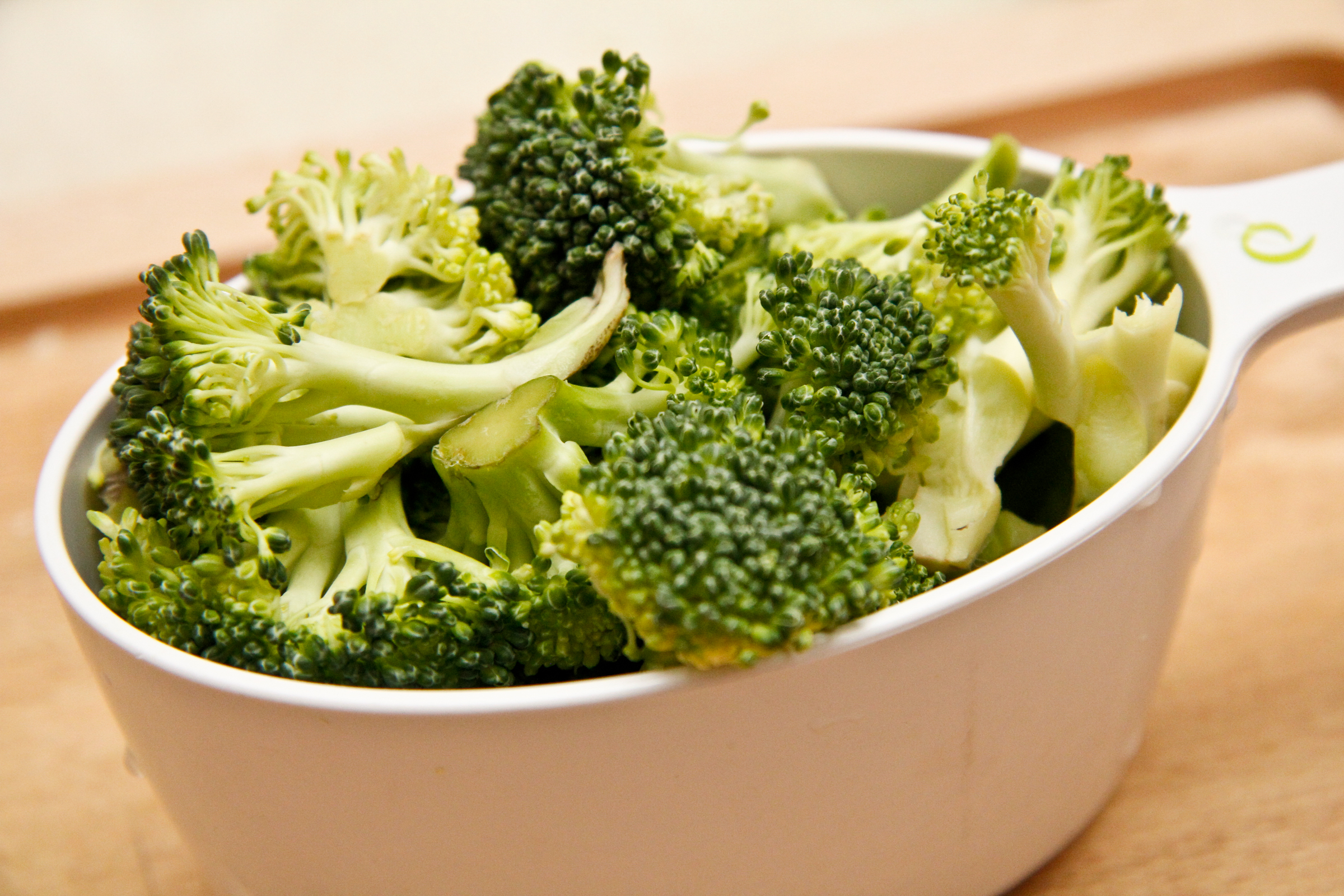 Measure out 1 cup of broccoli florets. It would be wise to cut them up pretty small.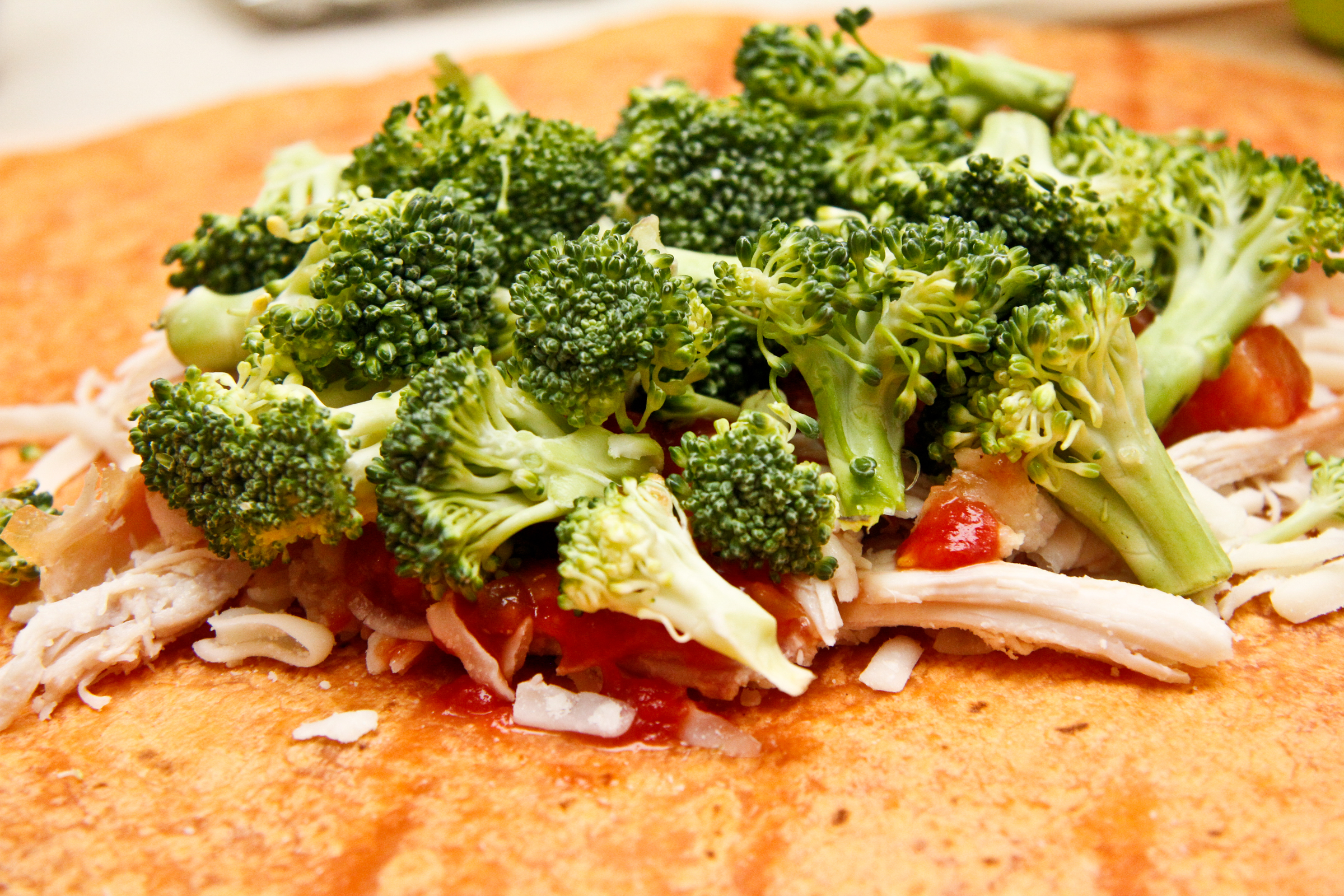 Even though it might look like a mountain, this amount will shrink once they steam.
Remember that reserved 1/4 cup of cheese?  This is when you use it.  So yes, the broccoli is sandwiched between a layer of salsa and cheese.  Yum!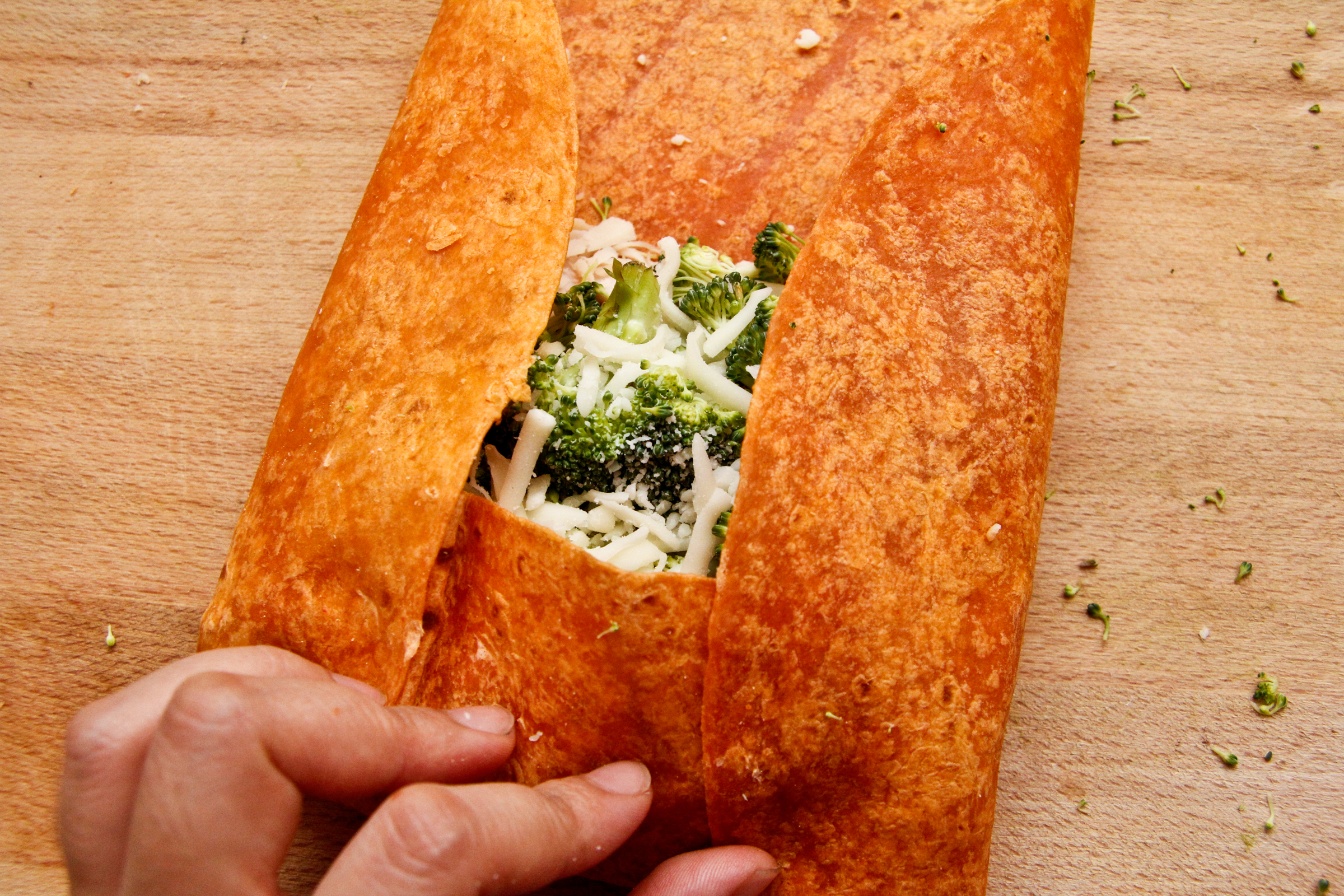 Tuck and roll…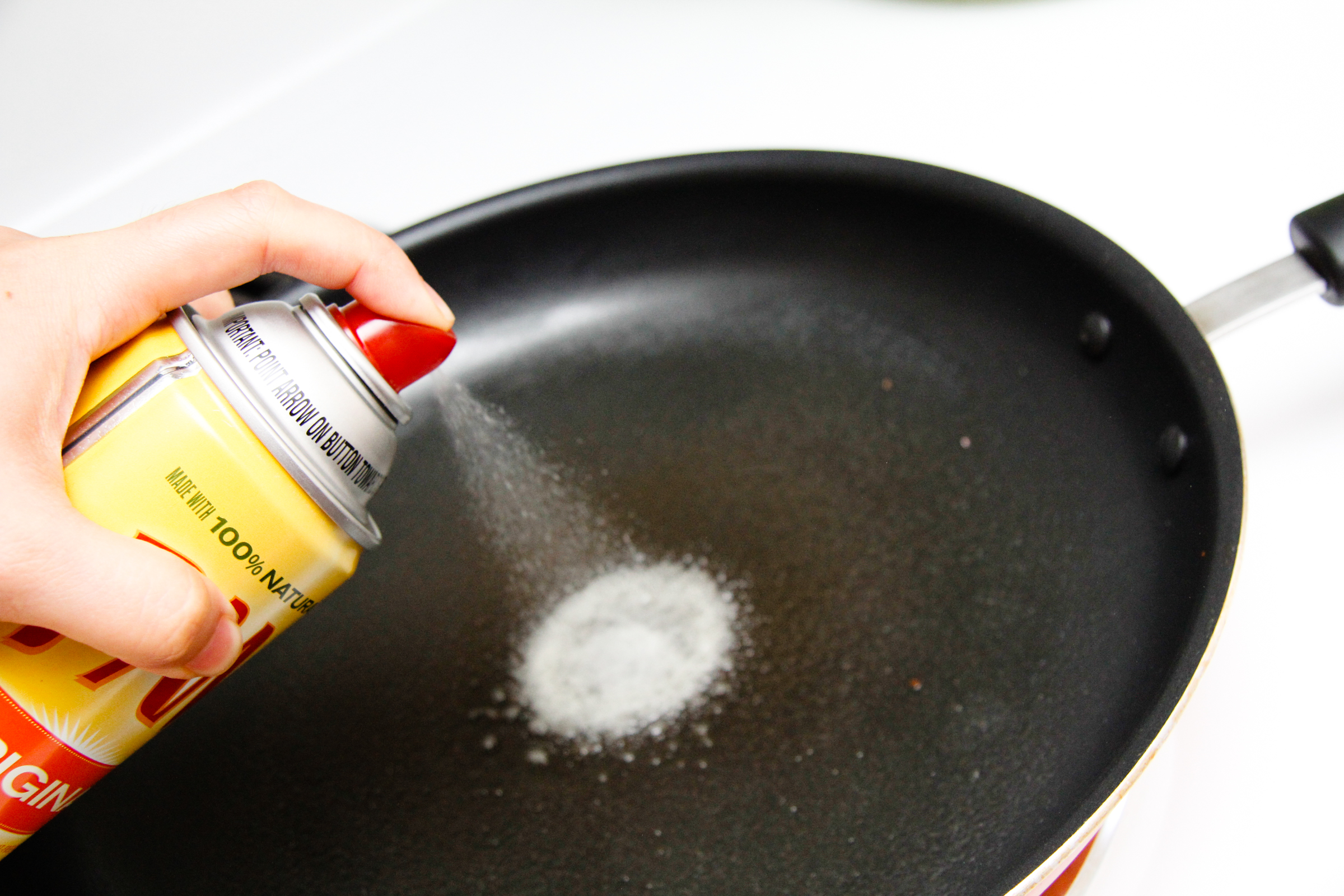 Then spray your pan with some PAM.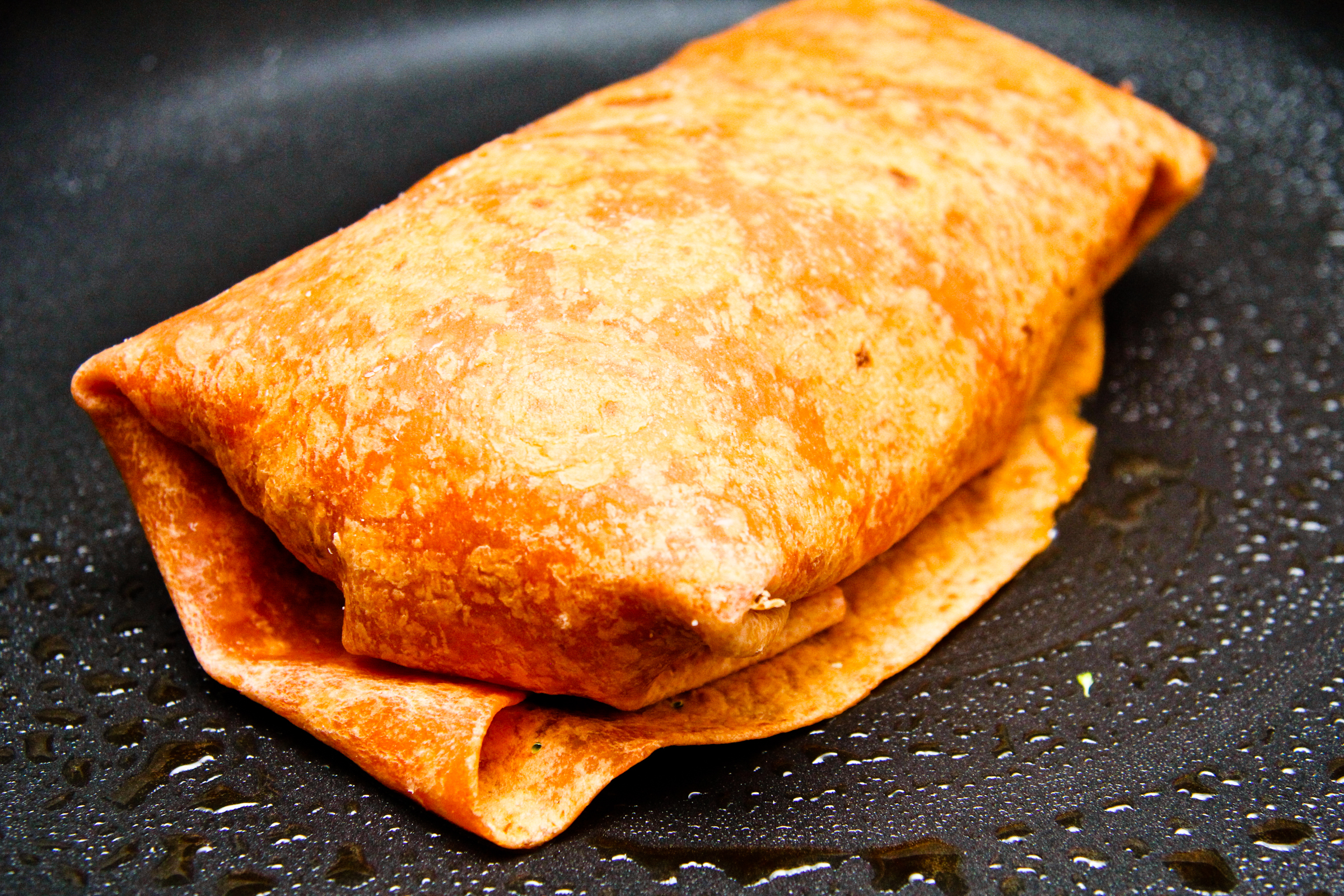 And on medium low heat, place your big burrito seam side down first, in order to keep this baby closed.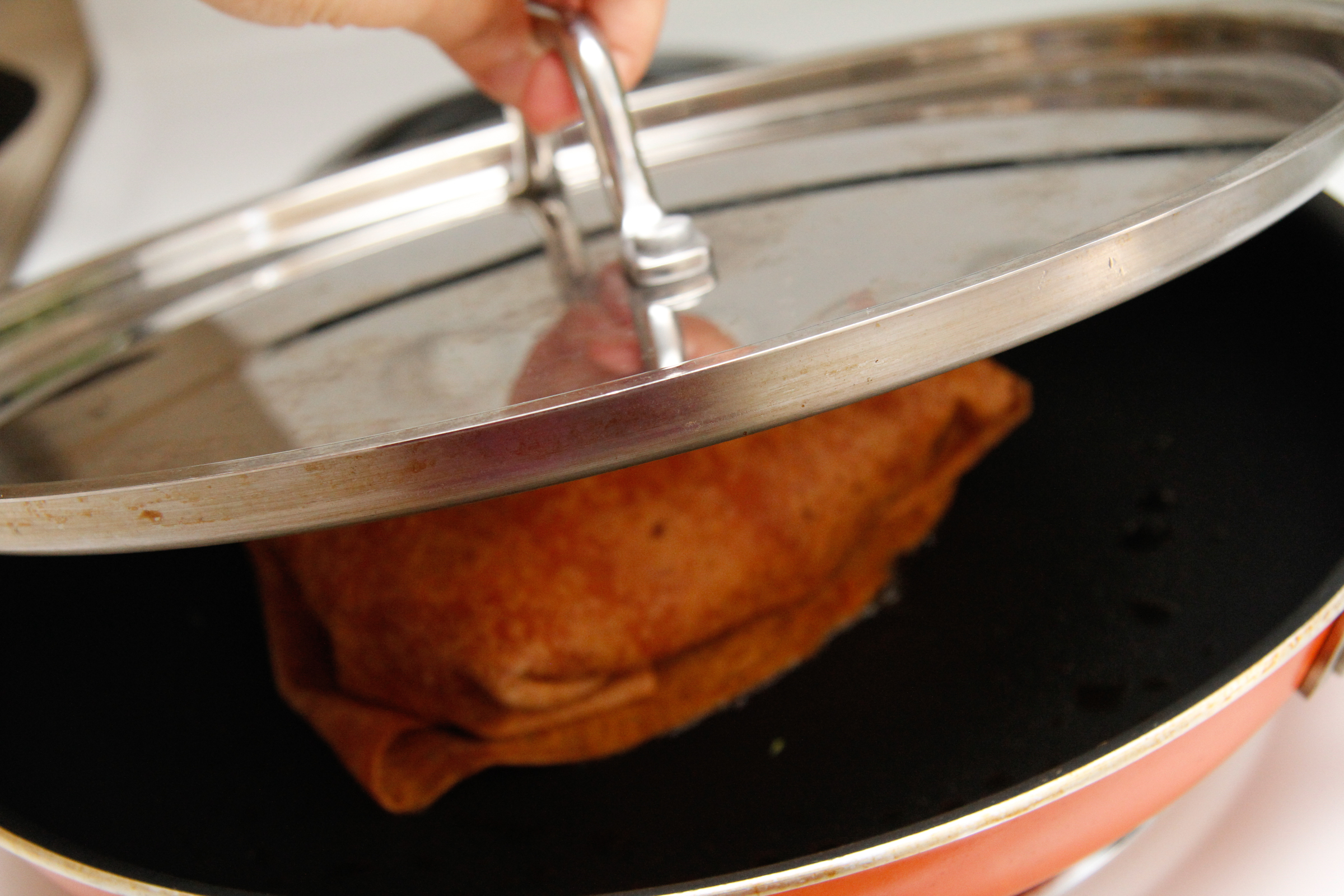 Then cover with a lid.  Using a lid and cooking it over medium low heat will allow the cheese to melt and the broccoli to steam before the tortilla gets too brown or burns.  Then you flip onto the other side and repeat.  Give it a gentle squish with your spatula if you want.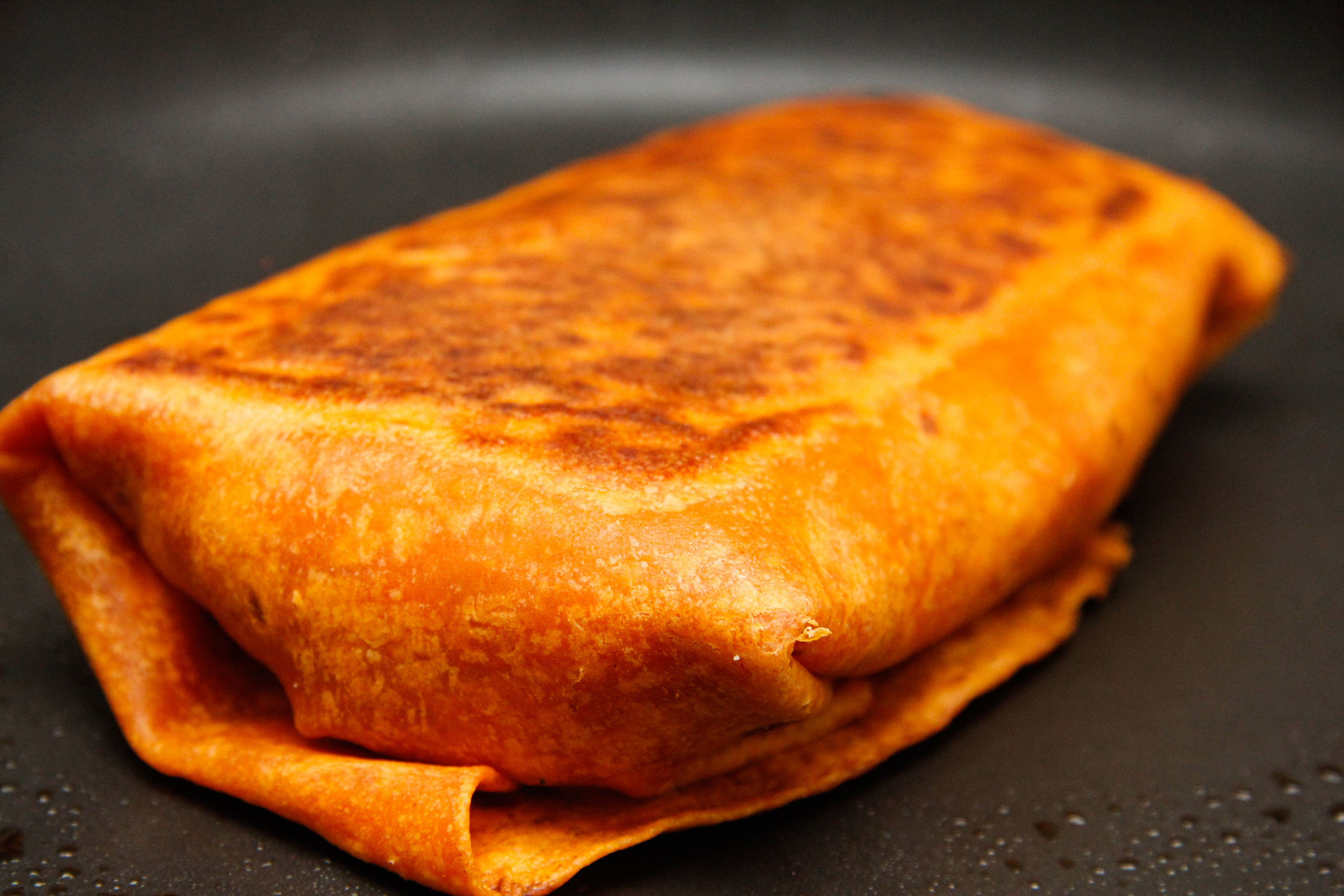 Once the tortilla is slightly crisp, the cheese is gooey, and the broccoli is perfectly steamed to a crisp tender, you're in business.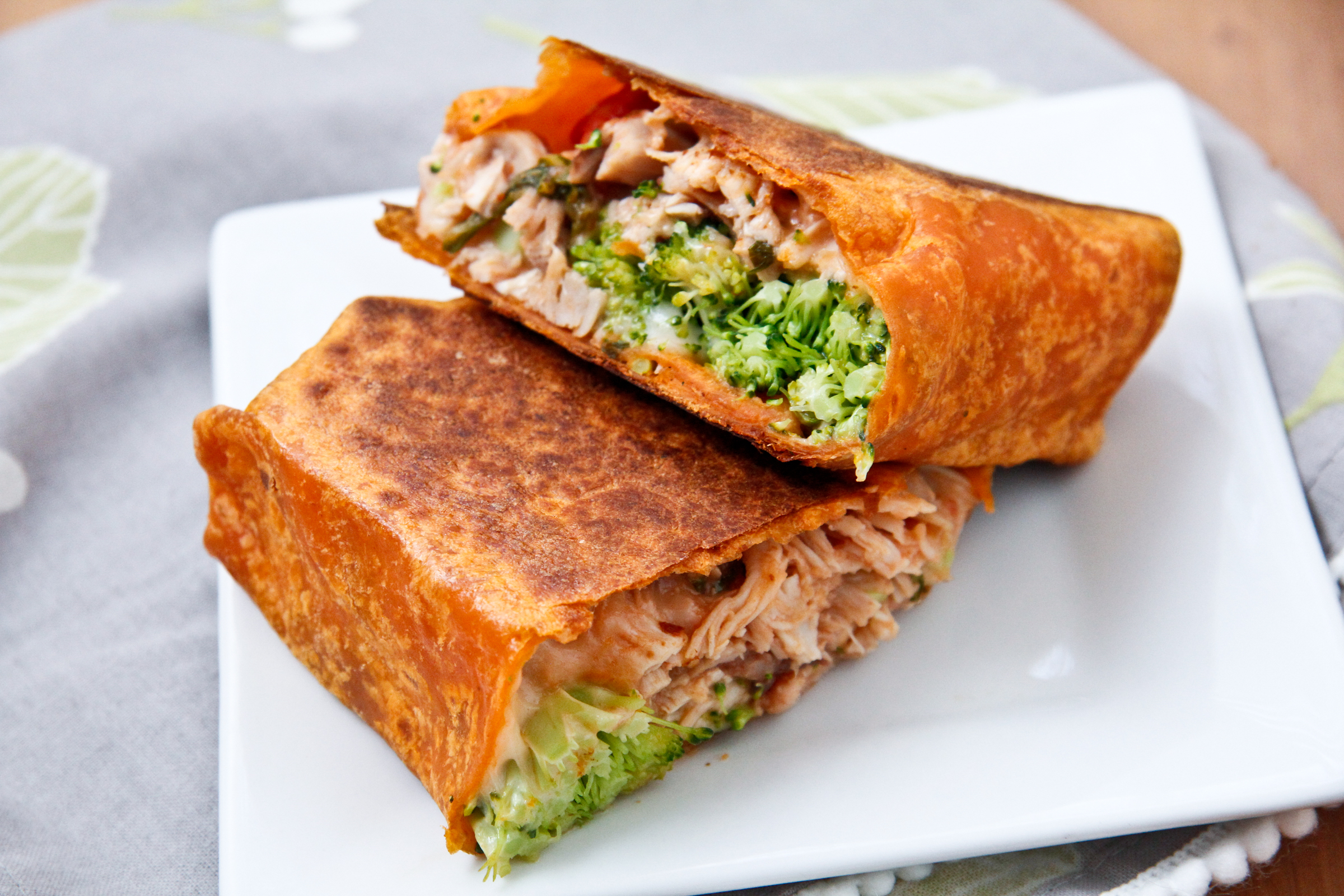 And then I mean…. I mean…. really, there is nothing more to say…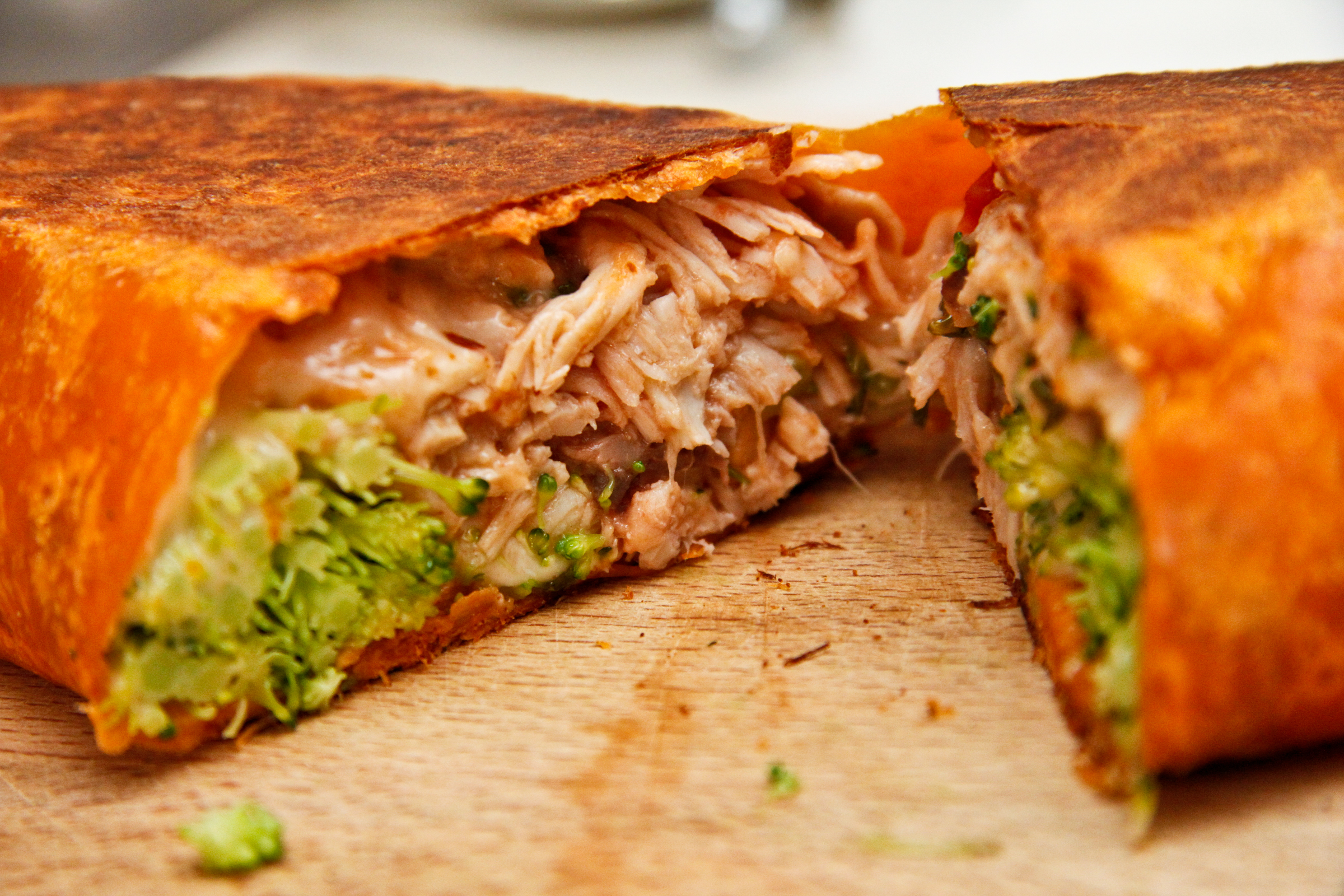 Once you sink your teeth into this piping hot burrito with all its cheesy chicken and broccoli goodness, you'll see rainbows and butterflies.  The key is to go and get some sweet pineapple and peach salsa, because that really sends it over the top and works really well with the savory saltiness of everything else.  And if you're like me, you'll do it even more justice by adding just a squirt of sriracha with every bite.

Chicken and Broccoli Burrito
This easy burrito is so satisfying and comes together in a jiffy.
Ingredients
1 large tomato tortilla
½ cup shredded rotisserie chicken
½ cup shredded mozzarella cheese
1 cup broccoli florets
2 Tablespoons pineapple peach mild salsa
Nonstick cooking spray
Instructions
In the center of the tortilla, add ¼ cup of cheese. Then add all of the chicken, topped with the salsa. Next, add the broccoli florets and sprinkle on the remaining ¼ cup of cheese.
Roll the burrito tightly, starting from the bottom, and tucking in the sides, until it's formed into a neat bundle.
Heat a pan over medium-low heat and spritz with the cooking spray. Add the burrito, seam side down, and cover with a lid. Cook until the bottom of the burrito is lightly browned and crisp, about 3-5 minutes. Flip on the other side. Gently press with a spatula to flatten slightly, cover and cook until browned and crisp about 2-3 minutes more. Cooking the burrito on medium low heat and with a lid, will give the cheese a chance to melt and the broccoli to steam perfectly. Enjoy while hot.