Artichokes with Lemon Beurre Blanc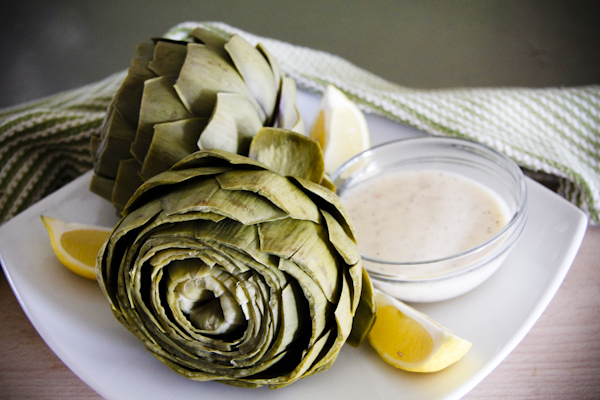 We were originally planning on posting this video and recipe last month when it was in the heart of Spring, and artichokes were everywhere, but we were a bit swamped and got delayed… sorry! However, I think you should still be able to find fresh artichokes at your store right now. I admit it. I used to be one of those people who thought that artichokes were too cumbersome to deal with. Well that's because in culinary school, I got seriously artichoked out. They made us trim them down (a lot of them) with a pairing knife until there was nothing left but the heart. Then we had to scrape out the scraggly choke with a spoon, place the hearts in acidulated water, and sometimes I'd accidentally cut my fingers with the pairing knife and get lemon juice on those cuts… uh huh. But then I started working with them in the real world and saw that there were so many different and easy ways to prepare them. One of my favorite ways to cook fresh artichokes is to simply boil them and serve them with a delicious dipping sauce.  
Preparing them can require a few steps, but really, everything is so easy and totally doable. And they do take about a half hour to boil, but it's not like you have to hover over them or do anything crazy while they boil.  When they're done, I like to pair the tender leaves with a good dipping sauce, otherwise, they're kinda bland. Traditionally, I've seen artichokes served with hollandaise sauce, or some kind of seasoned aioli– homemade mayonnaise. But heck… dip them in ranch dressing for all I care… it's totally up to you.
However, for my more ambitious friends, I suggest you try making a butter sauce to go with it. Beurre blanc is a classic French butter sauce, and when I say butter… I mean BUTTAH. So yeah, like I said, if your eyeballs are popping out of your head looking at just how much butter I ask you to use for a dipping sauce for an otherwise healthy vegetable appetizer, then by all means, skip the sauce. It's just that the combination of the lemon, butter, and shallots really make for a zippy, tangy and unique creamy sauce that truly pairs well with the artichokes. But really, do what you want. Watch how I boil artichokes and make the lemon beurre blanc in our 8th video.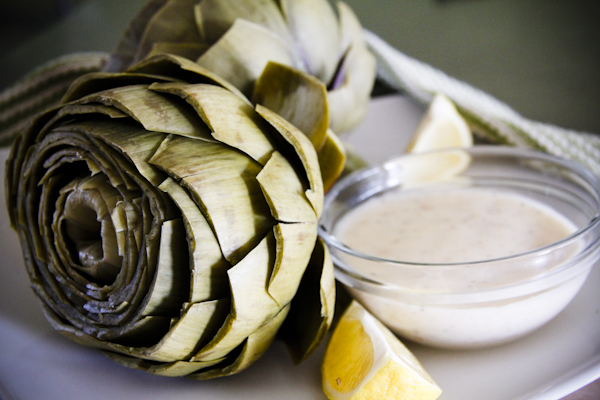 It's so satisfying to scrape the flesh of the leaves right off with your teeth. Eat everything… the tender heart, the stem… everything BUT the choke. When you get to the spiky tough core, it's no good. Save any leftovers in a ziplock bag in the fridge and microwave or steam it to heat it up. So now that you know how to make artichokes, go to the store RIGHT NOW and check to see if they're still on sale. Prepare this recipe as a fancy appetizer for your guests, or enjoy this all by yourself in front of the TV with a glass of wine after a busy day.

Artichokes with Lemon Beurre Blanc
Ingredients
For the Artichokes
2 medium artichokes
Water
1 lemon, cut in half
2 tsp. kosher salt

For the Lemon Beurre Blanc
2 shallots, finely minced
¼ cup fresh lemon juice
⅓ cup white wine
⅓ cup heavy cream
¼ teaspoon each of kosher salt and black pepper
2 sticks cold unsalted butter, cut into cubes
Instructions
Bring a large tall pot of water to a boil. Add the salt. Squeeze the lemon halves slightly, into the water and add to the pot as well.
Grab the artichokes by their stems and then chop off 1 ½" from the tops to expose some of the heart and choke. Cut off 1" from the stem, but don't remove the entire stem. It's edible once cooked. With kitchen shears, snip off the points of each and every leaf for a restaurant style presentation.
Add the artichokes to the water and weigh them down with a small plate or lid. Cover the whole pot with a lid and reduce to a simmer. Simmer for 30-40 minutes, or until a pairing knife pierces through the stem easily, and the leaves can be pulled out without resistance. Drain, and serve on a plate with extra lemon wedges, and dipping sauce of your choice, such as a lemon beurre blanc.
Lemon Beurre Blanc
Add shallots, lemon juice and white wine to a small pot. Bring to a boil and reduce until you have 2 tbsp worth. Then add the cream and salt and pepper. Cook until the cream is reduced by half.
Slowly whisk in the cold butter, a few cubes at a time, making sure that they dissolve completely before adding more. When you have about 4 cubes left, take the pot completely off the heat and whisk in the remainder cubes. This will ensure that the sauce will stay creamy, and the butter won't break into a greasy mess. Adjust seasonings with more salt if desired. Serve immediately.
TIP: If you have leftover beurre blanc that you want to save, pour it into a bowl and keep it in the fridge. Do not reheat it, or it will break into a greasy sauce. Instead, bring it back to room temperature, and when it's soft enough, whisk it over another bowl filled with hot tap water, until it's smooth. Then spoon over fish or scallops, or other vegetables, such as asparagus.