Chicken Caponata Sandwiches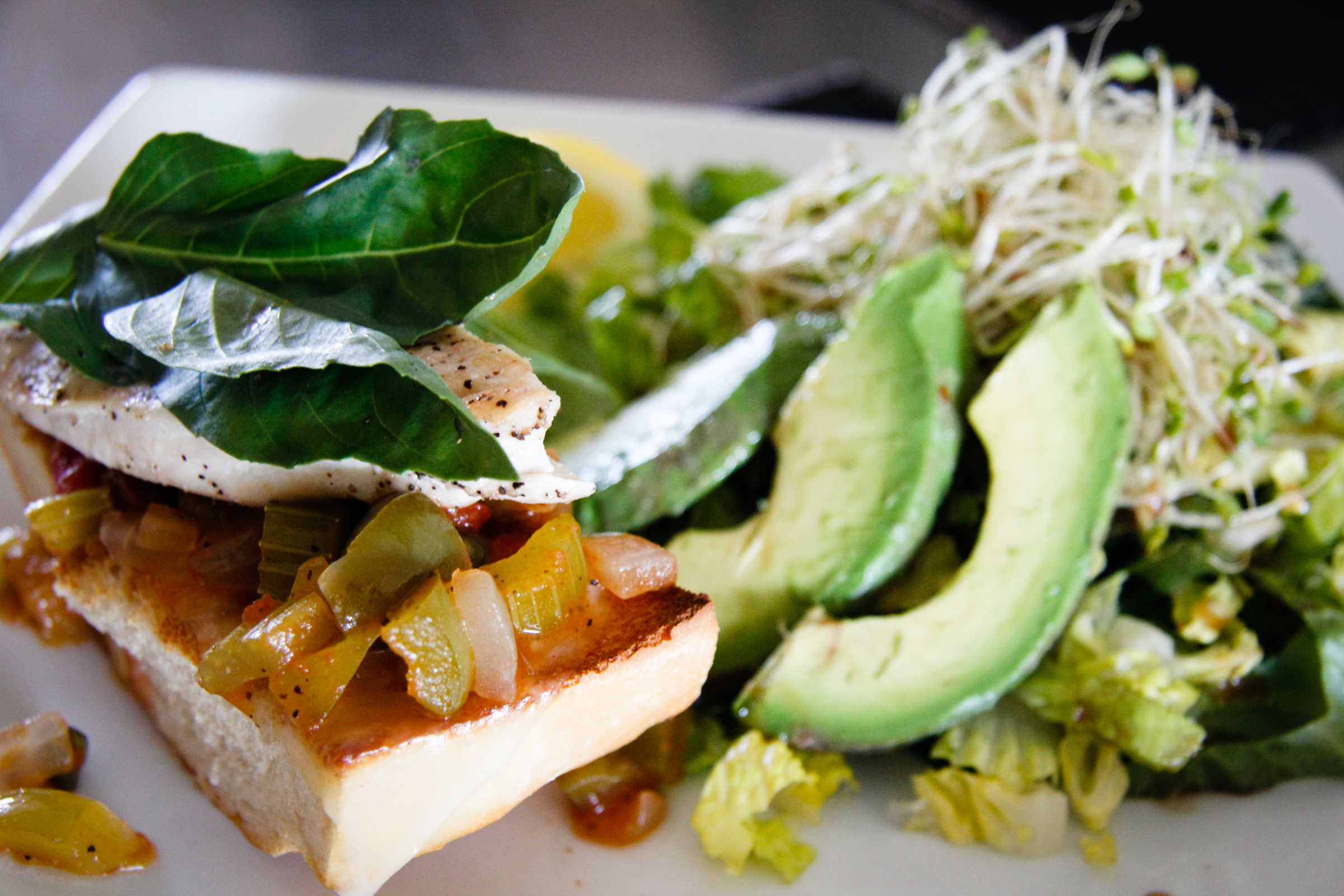 Happy Cinco de Mayo! So why am I not posting a Mexican recipe today you might be wondering? Well, yesterday I wrote about a $30.00 challenge that was given to me by my friend Jinnie and her sister Jina. They wanted me to make a gourmet meal for three people using only $30.00, or $10.00 a head. I promised I would post the recipe today for the open faced caponata sandwiches I made for them, as part of the lunch, so here I am, true to my word.  
I love caponata. It's an Italian dish of a medley of diced vegetables, gently cooked down together with tomato, red wine vinegar, sugar and olive oil. It ends up being salty, sweet, tart and delicious. It's great hot, but I also like to eat it cold on top of crunchy lettuce as a salad, and it doesn't need any dressing. And caponata was often a staple on my past catering menus, because it's so flavorful and diverse.
I think the Italians are so smart to invent this. Humble vegetables, especially maybe ones that are getting a little squishy sitting in your fridge, are transformed into a delectable, lip-puckering, bright tasting, tomato based "stew" of sorts. Well, it's more like a chunky tomato chutney, especially because there are plump raisins in there too. And you can use it for so many things. Put some inside a plain grilled cheese sandwich…instant bada bing!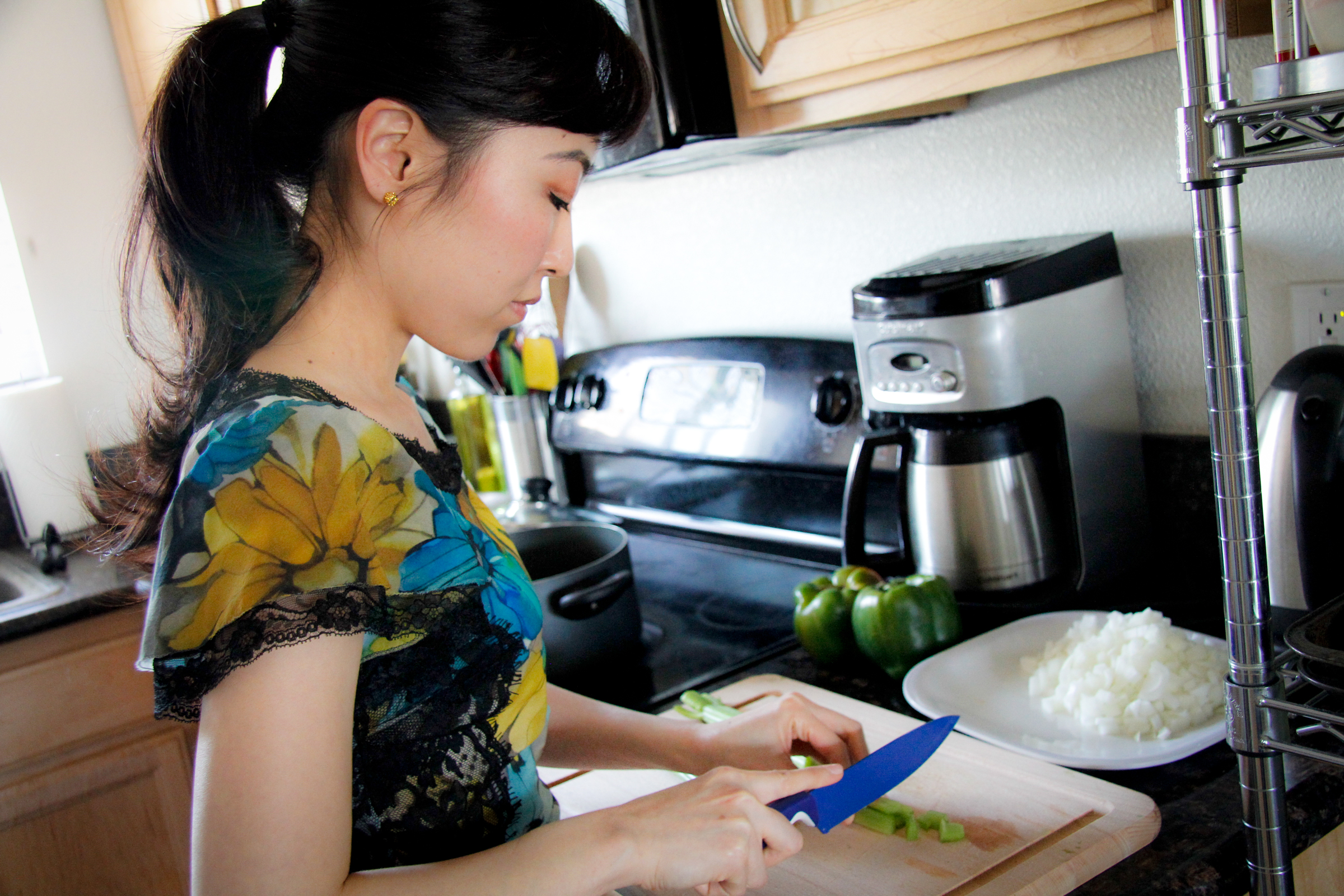 Ok, now that you have a better understanding of what I'm talking about, we can move on. I made Jina help me out in the kitchen and work for her meal. So I had her chop the veggies and stir in the seasonings for the caponata.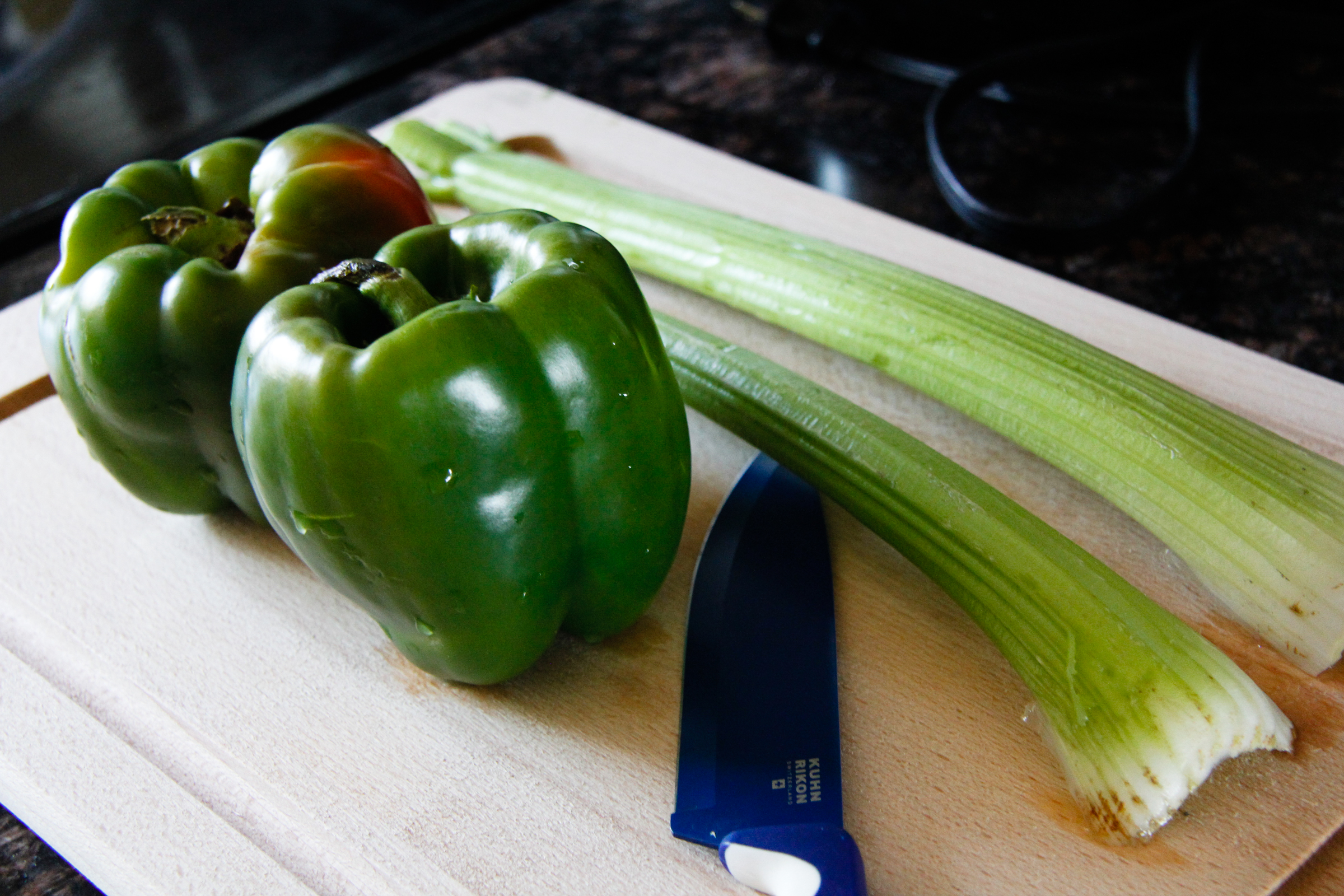 Dice your bell pepper, celery and eggplant. Yeah, eggplant was nowhere to be found in my local grocery store, so I substituted it with an extra bell pepper and stalk of celery instead. But for you, do as I say, not as I do. Eggplant is awesome in caponata… although in our case, it still turned out fine without it.
Then dice up an onion.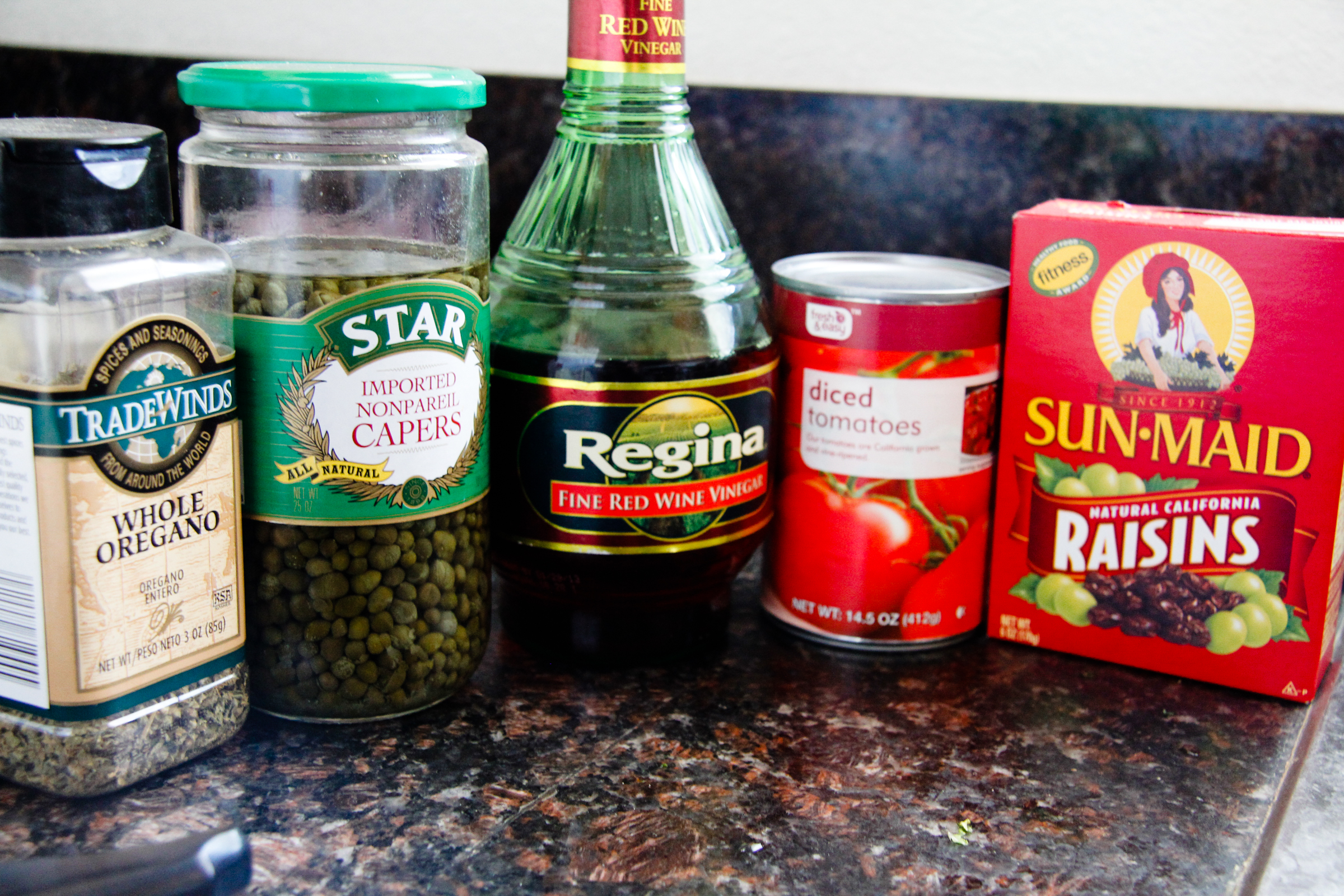 Assemble your cast and crew.
Pour in your olive oil. Yes, measure out and use the entire 1/4 cup. It's necessary to balance out the vinegar you'll be adding. Throw your star players into the pot. Cover with a lid and let it do its thing over low heat.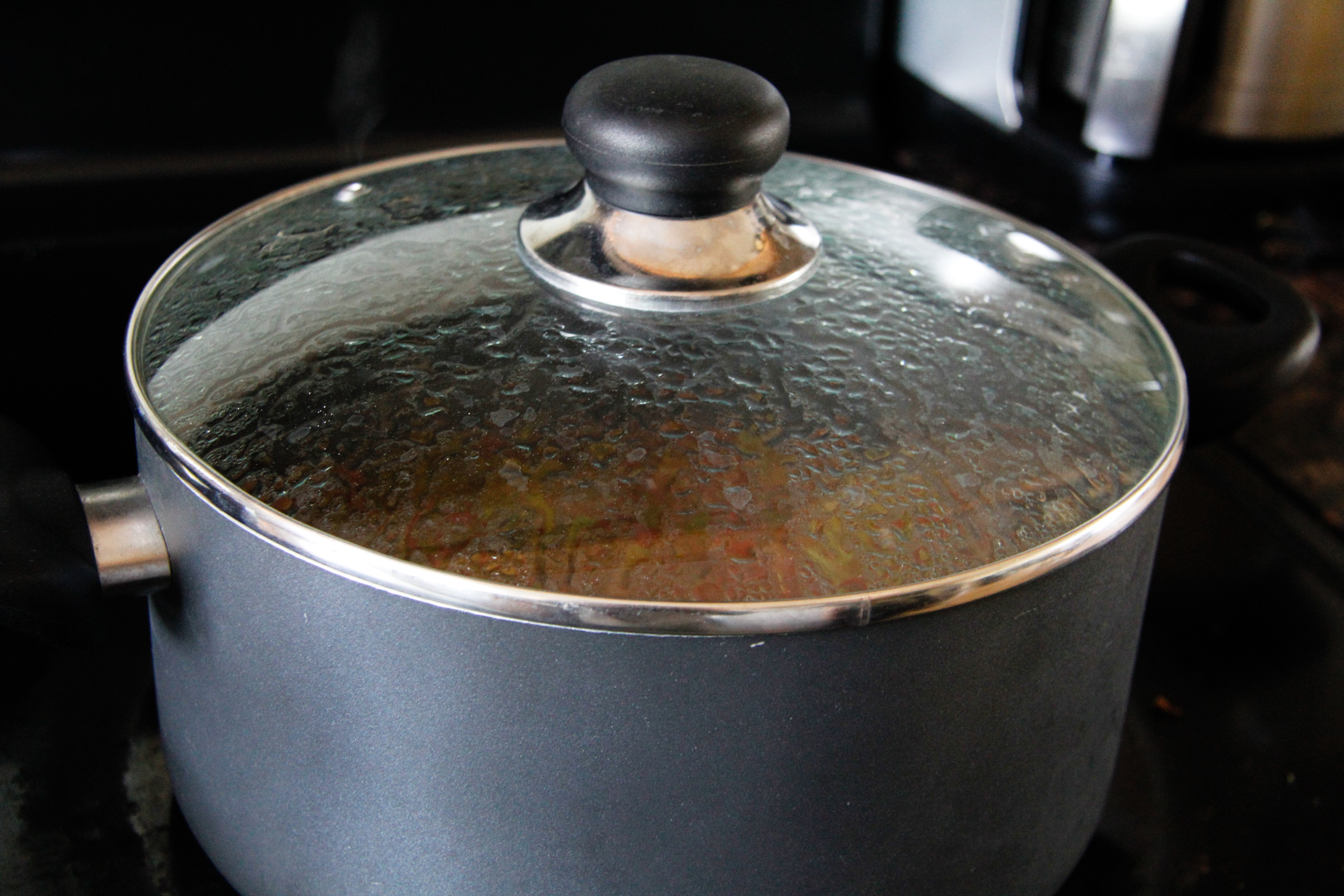 Let it get all soft and thick, but don't let it turn into mush. You still want to see all the pretty diced pieces. Keep it covered and set it aside. It will stay warm, but it's okay even if it cools down.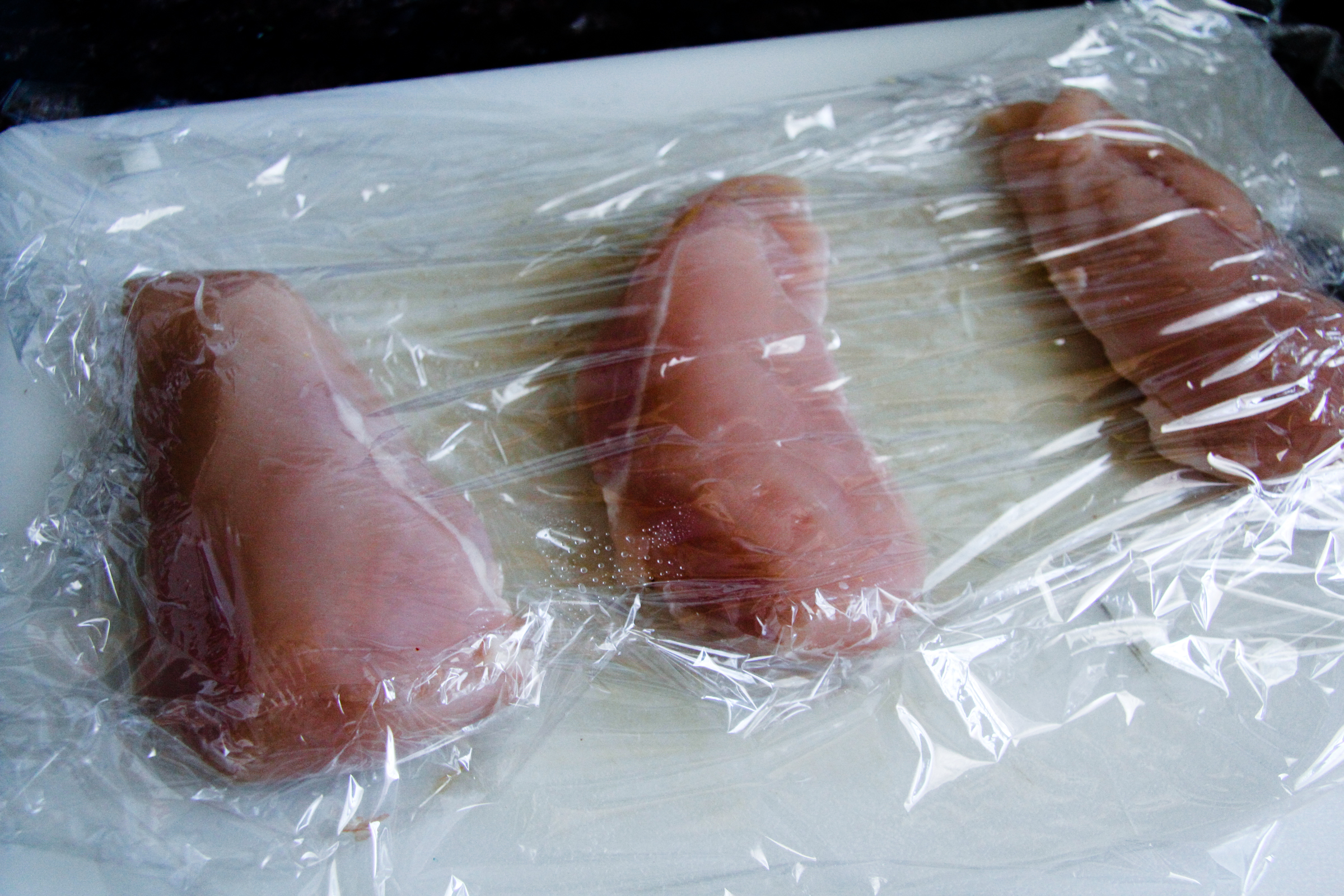 Then grab your chicken.  Each chicken breast will be enough for two sandwiches.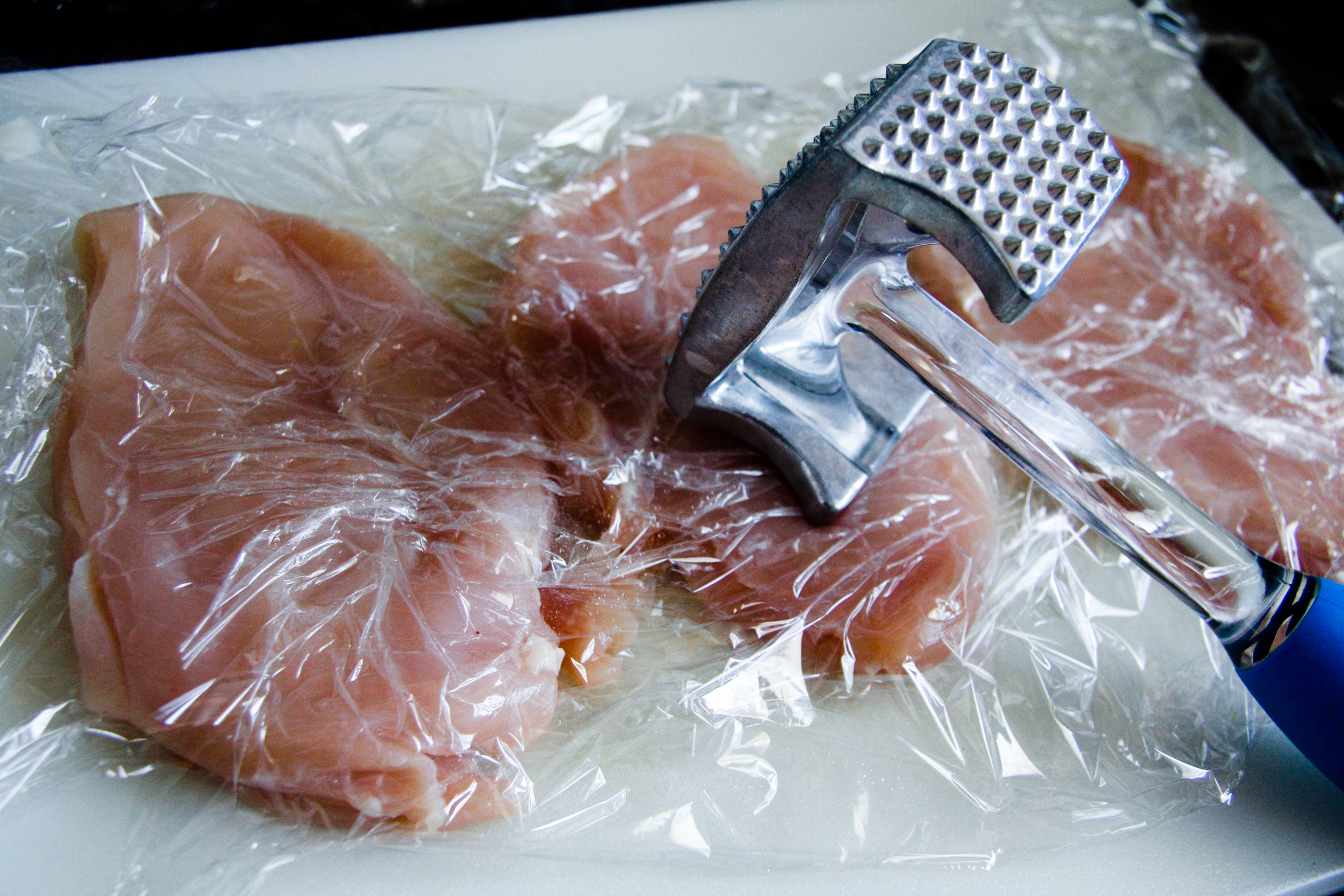 And get your aggression out. Not only will this make your chicken more tender, but they will cook faster and more evenly…oh and stay juicy. Did I mention I hate dry chicken? Don't over cook your chicken!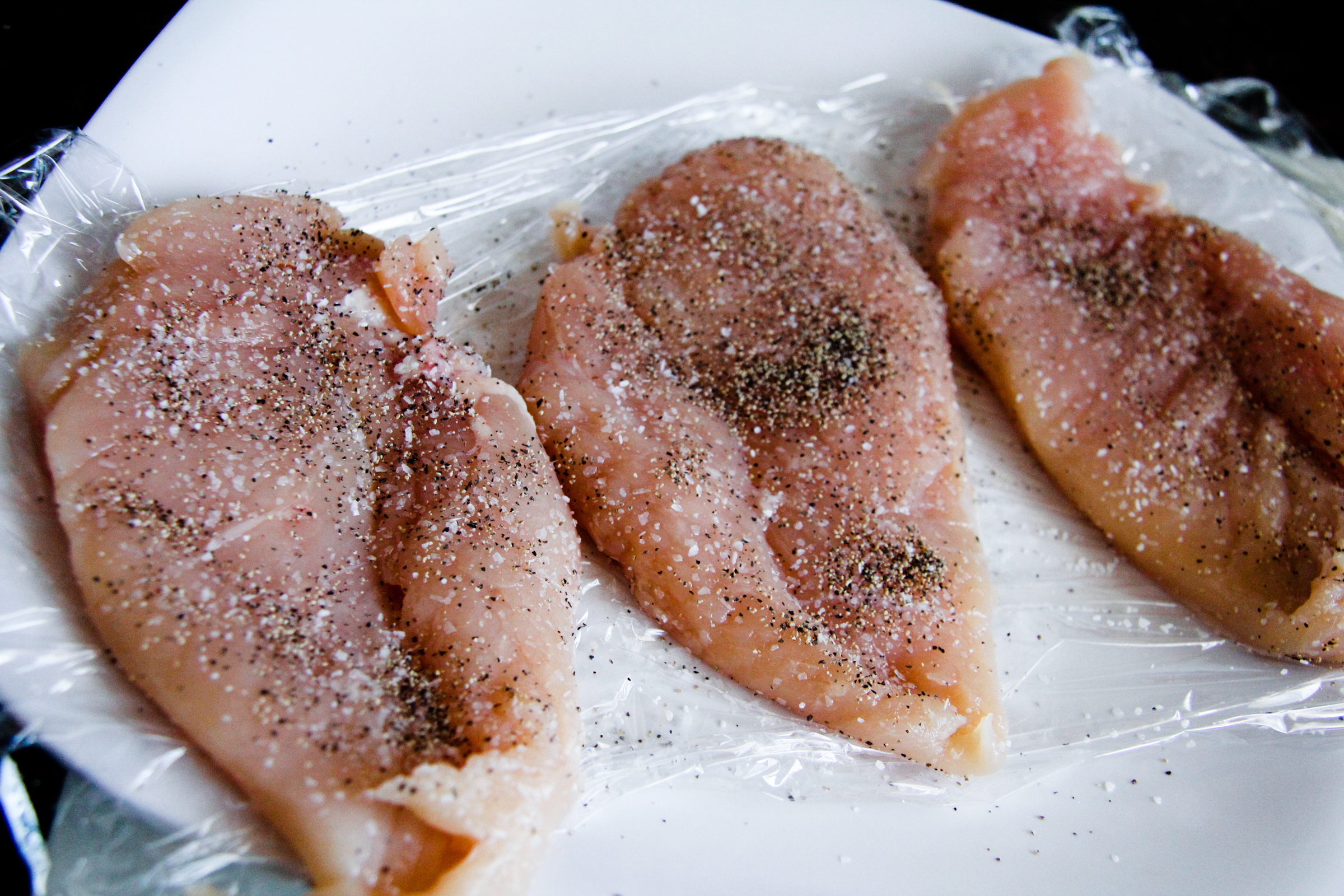 Give them a liberal sprinkling of salt and pepper on both sides, and pan fry them with some olive oil. Cover with a lid while cooking to make sure they stay juicy. Let them rest, wrapped in some foil before cutting into them. They'll stay warm inside their foil home.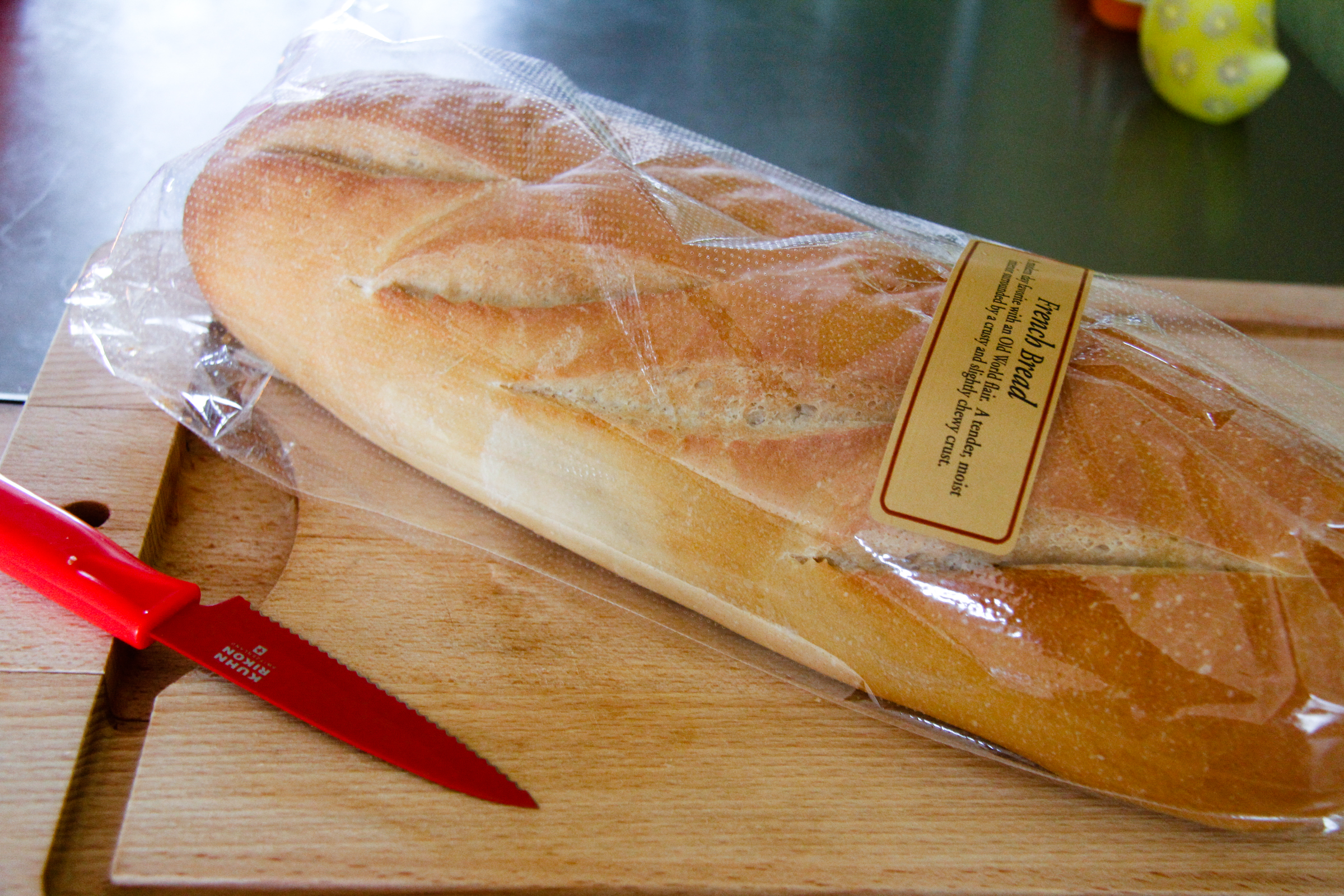 Then grab a loaf of ciabatta bread, or in this case, a $1.00 loaf of crusty French bread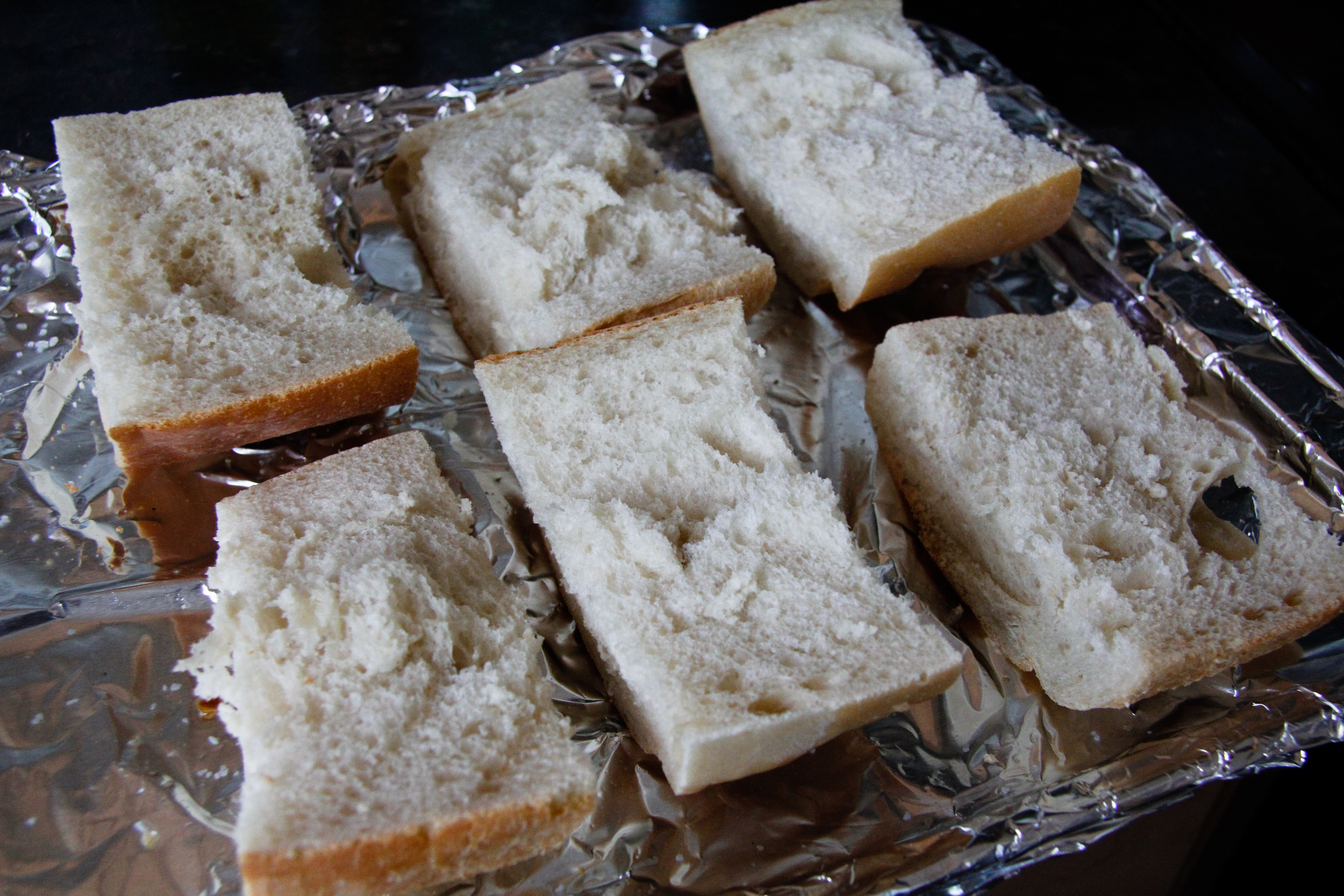 Cut off the round ends and then slice it into even pieces. Spread them out on a baking sheet. Pop them under the broiler until they just start to turn golden brown.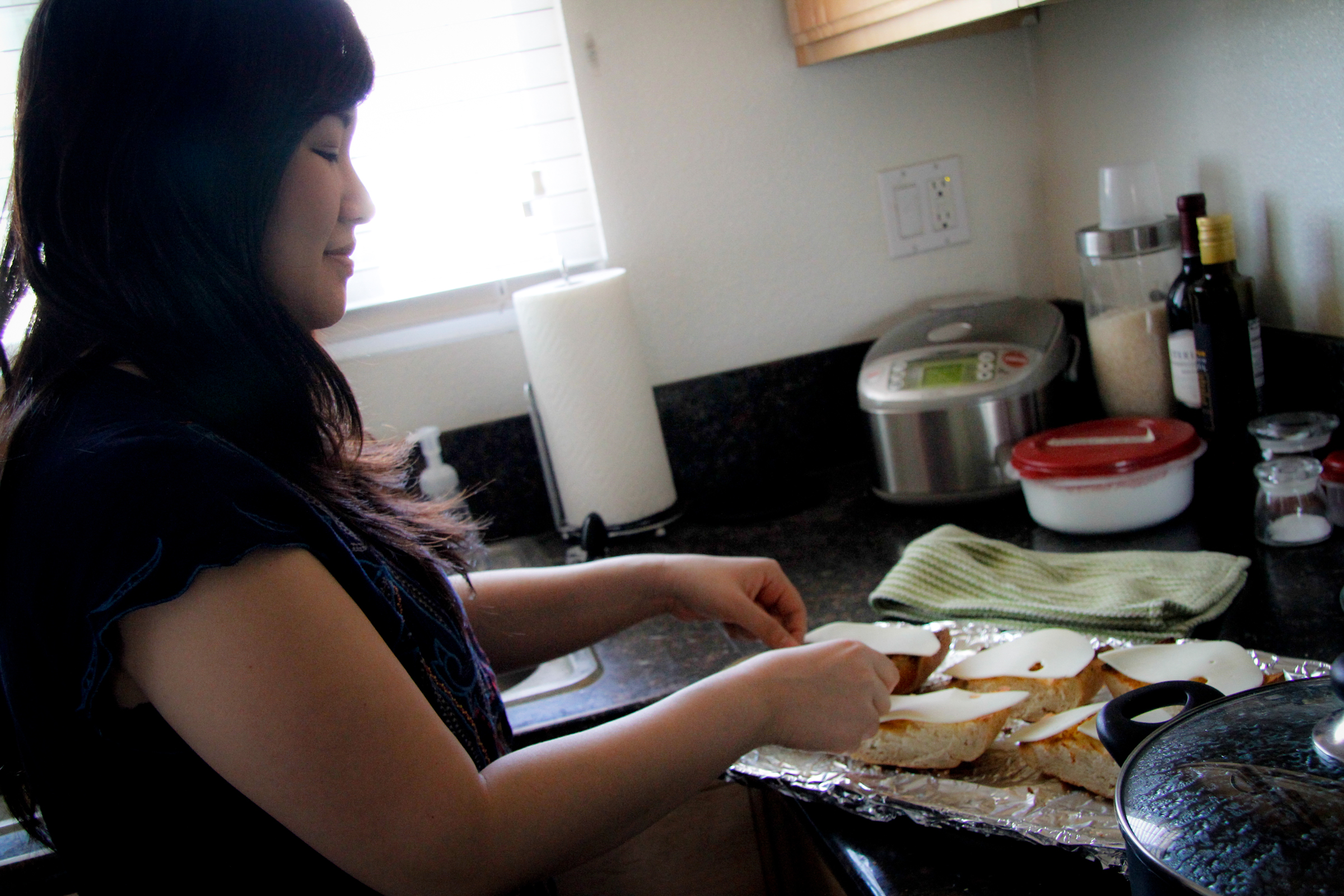 Then get your friend to rub a cut piece of garlic over the now toasted sides, and top them with slices of provolone cheese. Pop the tray back under the broiler for a minute, or just until the cheese starts to ooze.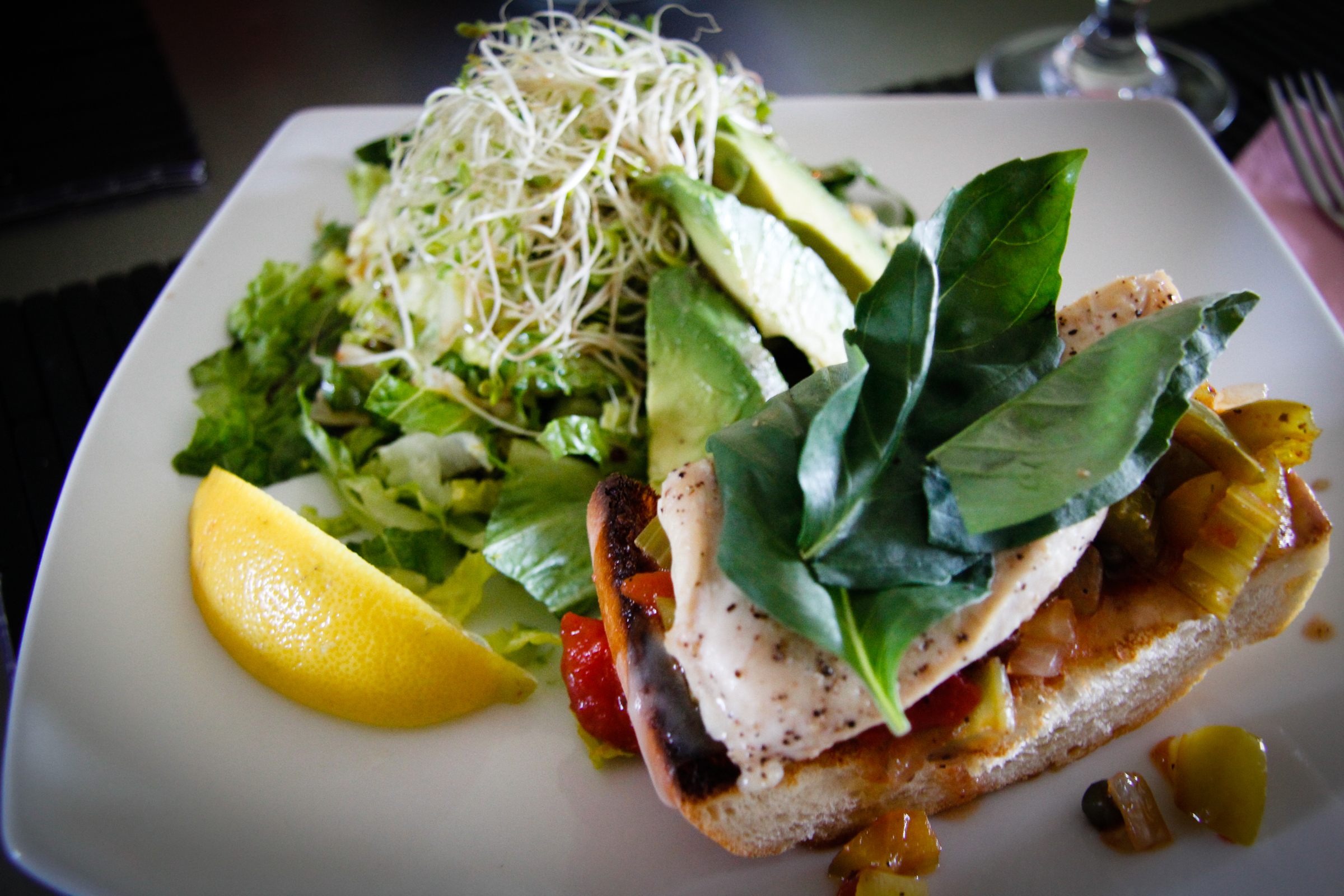 Then spoon over some warm caponata, and a piece of your chicken. Top with fresh basil leaves, and serve with a salad. Then grab your fork and knife and get to it.
The toasty cheesy garlic bread soaks up all the lusciousness from the sweet and tangy vegetables. And together, with the soft juicy chicken, and fresh aromatic basil, the combination is bombalicious. If you have leftover caponata, store it in the fridge for up to a week, and either reheat it, or eat it cold as a tasty-tasty super salsa. Oh… what do you know… a reference to Mexican food after all. Happy Cinco de Mayo and sink your teeth into these yumsters today.

Chicken Caponata Sandwiches
You can skip the chicken and just make the caponata. Throw it on some crostini and you have instant appetizers!
Ingredients
For the Caponata
¼ cup olive oil
1 stalk of celery, diced
1 medium eggplant, cut into ½" cubes
1 medium onion, diced
1 green bell pepper, cored, seeded, and cut into ½" pieces
1 (15 ounce) can diced tomatoes with juices
3 Tablespoons raisins
½ teaspoon dried oregano leaves
¼ cup red wine vinegar
5 teaspoons sugar
1 Tablespoon drained capers
½ teaspoon each of salt & pepper, plus more to taste
For the sandwiches
4-6 boneless, skinless chicken breasts, pounded to ½" thick
1 loaf ciabatta bread, sliced lengthwise, then crosswise into 4-6 portions
1 peeled garlic clove, with the tip cut off
Slices of provolone cheese
Fresh basil leaves, for garnish
Instructions
In a wide pot or deep skillet, heat the oil over a medium flame. Add the celery and sauté until crisp-tender, about 2 minutes. Add the eggplant and sauté until it begins to soften, about 2 minutes. Add the onion and sauté until translucent, about 3 minutes. Add the bell pepper and cook until crisp-tender, about 5 minutes.
Add the diced tomatoes with their juices, raisins and oregano. Cover with a lid and simmer over medium-low heat until the flavors blend and the mixture thickens, but the vegetables still hold their shape. Stir often, and cook for about 20 minutes.
Stir in the vinegar, sugar, capers, and ½ teaspoon each of salt and pepper. Season with more salt and pepper to taste. Set aside.
Pound your chicken breasts between saran wrap until they are ½" thick. Season liberally with salt and pepper on both sides and saute in a pan with some olive oil, until browned on both sides and cooked through. Cover with a lid while cooking to help keep them moist. Wrap them in aluminum foil to keep warm and allow them to rest. Then cut them in half when ready to serve.
Preheat your broiler. Place all the bread pieces, cut sides up on a baking sheet and pop under the broiler to slightly toast. Rub all the toasted sides with the raw garlic clove. Place slices of provolone cheese on all pieces of bread. Pop back under the broiler until the cheese is melted and bubbly. Spoon warm caponata on top. Place half a piece of chicken breast over each sandwich and garnish with fresh basil leaves. Enjoy like a fancy person, with a fork and knife.
TIP: Calculate that you will need ½ a chicken breast for each open faced sandwich, and cook only what you need. Slice the bread into as many pieces as you want. Adjust the portion size of each sandwich to whatever you prefer. Also this dish can be vegetarian without the chicken and it will still taste amazing. Garnish with fresh basil.