This is Bananas: Banana Bread Recipe
A funny thing happened on the way back home from Phoenix.  A couple of years ago, we went there randomly for a 4 day trip because we had free plane vouchers and had never been there.  From there, we decided to go to the Grand Canyon and so I wanted to buy some snacks for the road.  I ended up buying a small bunch of bananas and we only ate 2.  
Well, while boarding the plane going back home, I brought along the remaining 3 extra (pretty ripe) bananas from Phoenix as a "carry-on" item in a plastic bag.  Joe thought I was being a crazy lady and actually got annoyed at me.  Of course we even argued a bit.  I mean, I sort of understood his point because it was just an extra thing to hold when we could have just thrown them away.  But I don't know, I was feeling like it was a waste throwing out 3 perfectly good bananas, right?
He was concerned that I'd lug 3 rotten bananas all the way home for no good reason.  So JUST to prove him wrong, I decided to bake a loaf of banana bread from scratch for the first time ever from these 3 little nanners and it came out just great!  And I got the SATISFACTION of hearing Joe say that in the end, I was RIGHT and it actually was worth the extra "baggage."  See how I make this delicious loaf in our 5th video!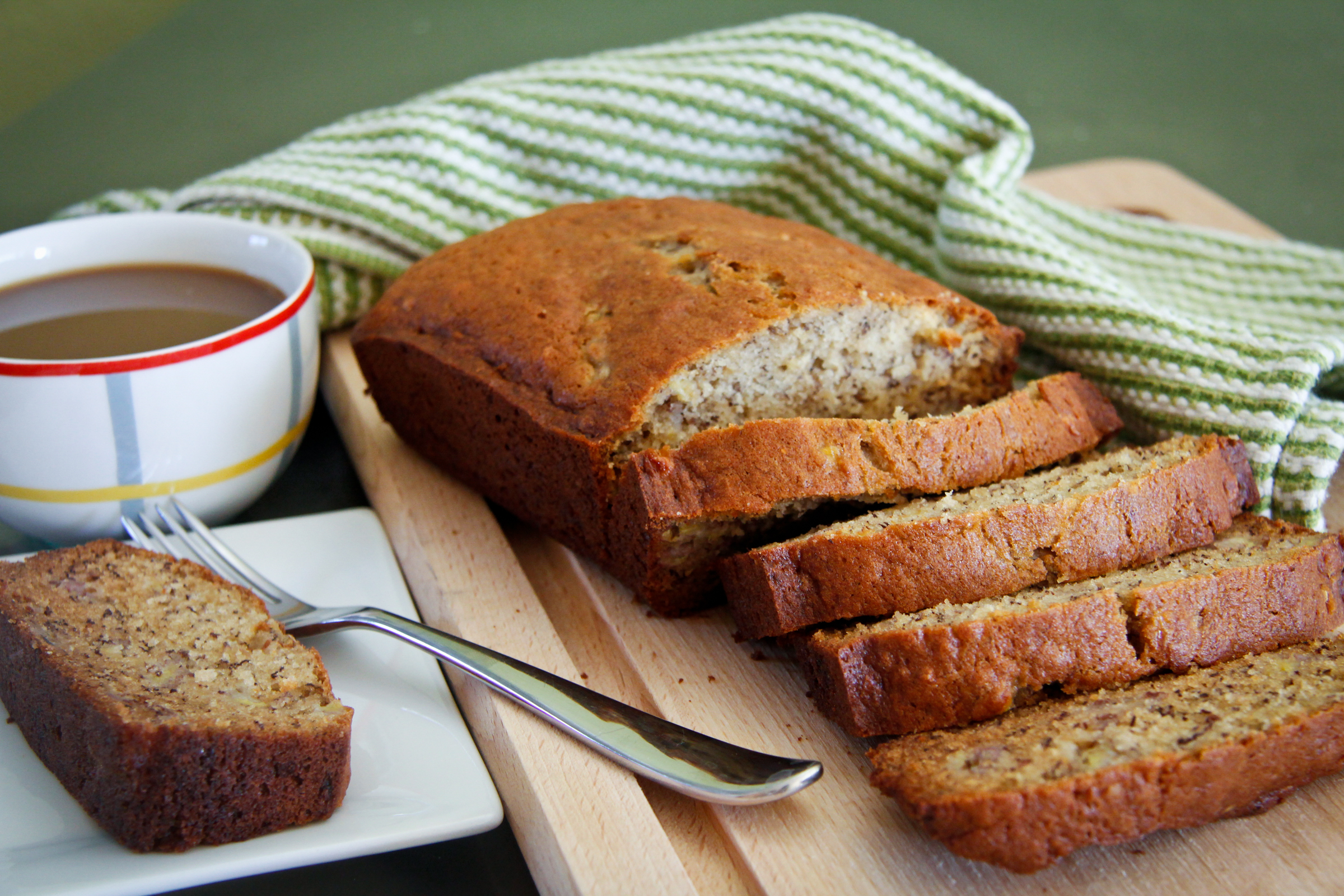 So the point of this story is, don't fight with your husband, but do make this banana bread.  It's almost as sweet and satisfying as being right.  Hope you enjoy!

This is Bananas: Banana Bread Recipe
I make this banana bread all the time. It's to the point where I get happy when my bananas get too ripe to eat.
Ingredients
Nonstick cooking spray
1⅓ cups AP flour
1 tsp. baking soda
½ tsp. of kosher salt
2 large eggs, at room temperature
½ tsp. vanilla extract
½ cup unsalted butter at room temperature
¾ cup white sugar (or up to 1 cup, depending on preference of sweetness)
3 very ripe bananas, peeled, mashed with fork
Instructions
Preheat the oven to 350 F. Spray a loaf pan with nonstick cooking spray. Line the bottom of the pan with a long piece of parchment paper cut to size so that you have about a 1" overhang on both ends of the pan. Spray the parchment with more cooking spray.
Shake flour and baking soda through a fine sieve into a medium bowl. Then sprinkle the kosher salt on top. Mix well and set aside. Whisk the eggs & vanilla together in a small bowl or cup and set aside. Place the butter and sugar in a separate large mixing bowl and with an electric hand mixer, cream them together until light and fluffy. This is the most important step so make sure the sugar and butter is nicely incorporated, pale and fluffy.
Gradually pour the egg mixture while mixing until incorporated. Add the mashed bananas, mix slightly and then put away your electric mixer. With a rubber spatula, gently fold in the flour mixture slowly until you cannot see any more flour in your batter, but do not over-mix.
Transfer the batter to the prepared pan. Place on the middle rack of the oven and bake for 50-55 minutes or until toothpick comes out clean. If the top of the bread gets brown too fast, but the inside is still jiggly and loose when you shake the pan, cover the top lightly with aluminum foil and continue to cook until set. Let it cool on a wire rack until it is easy enough to remove from the pan, by lifting it up by the ends of the parchment paper. Once completely cool, keep in an air-tight container or a resealable bag for up to 3 days on your counter, not in the refrigerator.
TIP: For best results, leave the unsalted butter out of the fridge overnight so that it's REALLY softened and at room temperature. It really makes a difference in your batter!