Saucy Tofu and Turkey Stir-Fry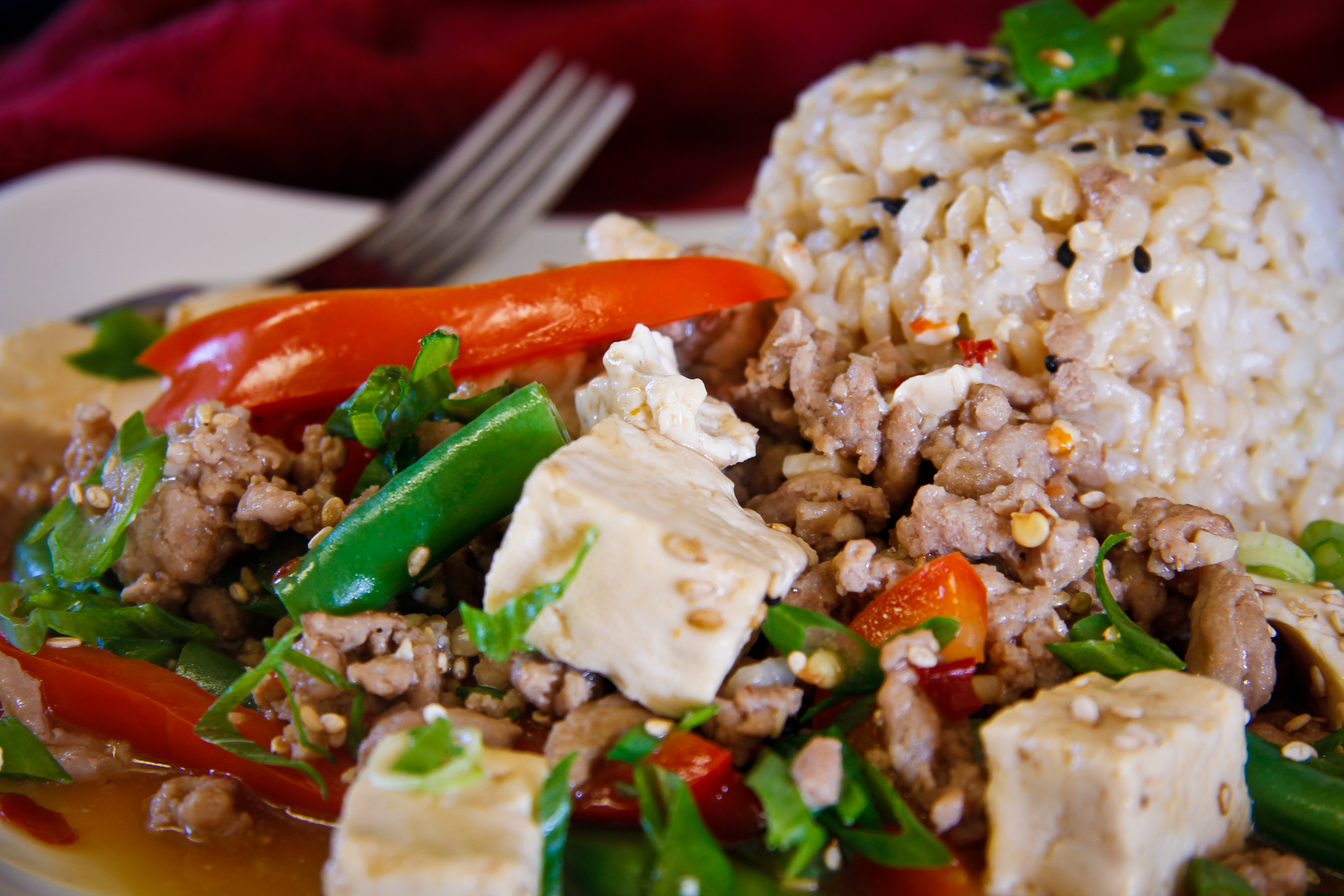 I love stir-fry, as a lot of people do, mostly because it's quick and easy to make.  One day, I decided to make one using what I had in my fridge, which happened to be tofu and ground turkey.  But knowing that ground turkey has a tendency to be bland and get dry, I thought to add sauce, and I mean a lot of sauce to help keep it moist and flavorful.  Then I looked at the tofu and realized that I could sort of make a mapo tofu type of thing, minus the spicy bean-based sauce.  
But then after a couple times of experimenting and making this dish, I was asked to teach a private cooking lesson from a couple on a low-sodium diet.  It was then that I tweaked my original recipe to use low-sodium soy sauce and low-sodium chicken broth, so that I could teach this dish to them.  It turns out that this healthy tweaked version tasted even better… winner winner stir-fry dinner!  They ended up loving the light guilt-free dish, and yet it was flavorful enough for Joe to enjoy as well.
I like to serve this flavorful stir-fry with brown rice, because it just makes me feel that much healthier.  I also did serve it with quinoa once and it was equally delicious.  If you're not feeling ground turkey, go for ground beef or pork.  I'm sure it will be just as good, if not better because of the natural fat and flavor of the meat.  Also use any seasonal vegetables you enjoy or whatever is available. It's up to you! Watch how I make this saucy stir-fry in our 3rd video!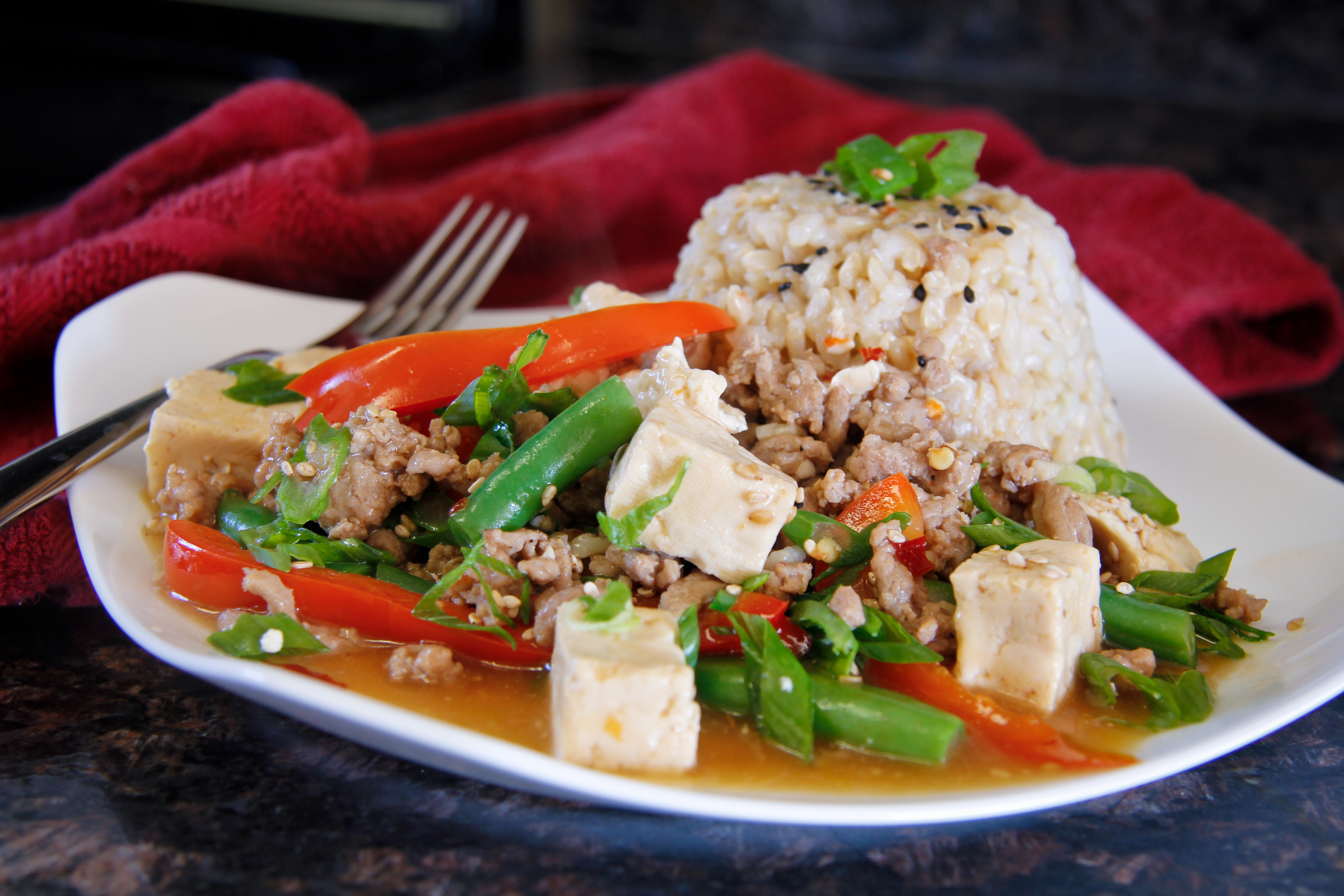 So when you're feeling saucy, try out my version of an interesting, yet healthier stir fry yourself. I think you'll be happy you did.

Saucy Tofu and Turkey Stir-Fry
This flavorful and healthy dish is almost like the love child between a stew and a stir-fry. If you don't want use ground turkey, use ground pork or beef.
Ingredients
1 package firm tofu, cut into 6 equal slices
2 cups reduced-sodium chicken broth
2 Tablespoons cornstarch
2 Tablespoons low-sodium soy sauce
2 Tablespoons oyster sauce
2 teaspoons chili garlic sauce
1 package (about 1 lb) lean ground turkey
1 Tablespoon peeled fresh ginger, finely minced
3 garlic cloves, finely minced
A big handful of fresh string beans, cut into 2" pieces
1 red bell pepper, cut into thin strips
Salt and pepper to taste
Chopped green onions for garnish
Sesame seeds for garnish
Instructions
Place tofu slices on several layers of paper towels on a plate and cover with additional paper towels. Place a dinner plate on top of the covered tofu; let stand for 20 minutes. Remove plate. Cut the pressed tofu slices into 1" cubes. Set aside.
In a bowl, combine broth, cornstarch, soy sauce, oyster sauce, and chili garlic sauce, stirring with a whisk.
Heat a wide pot over medium-high heat. Add ginger and garlic and cook for 1 minute until softened, stirring constantly. Add ground turkey. Season lightly with salt and pepper, and cook for about 3 minutes or until no longer pink, stirring to crumble. Add broth mixture to pan. Cut the tofu into 1" cubes. Add the cubes of tofu and nestle them into the broth mixture. Cover with a lid and bring everything to a boil.
Add the string beans. Nestle them lightly in the sauce and cover to steam them until they are just crisp tender. Add the red bell pepper and cover to let them steam for one minute. You want the vegetables to remain slightly crisp and colorful, so avoid over-cooking them. Toss everything lightly so it's nicely mixed. Remove from heat. Sprinkle with chopped green onions and sesame seeds. Serve tofu mixture with brown rice.
TIP: It's important to use reduced sodium chicken stock and low-sodium soy sauce in this recipe, otherwise, it might be too salty. But if you don't have the low sodium ingredients, try adding some water to dilute the regular sodium ingredients. And if you want the sauce to be thicker, let it reduce a little longer.