Crepe Monsieurs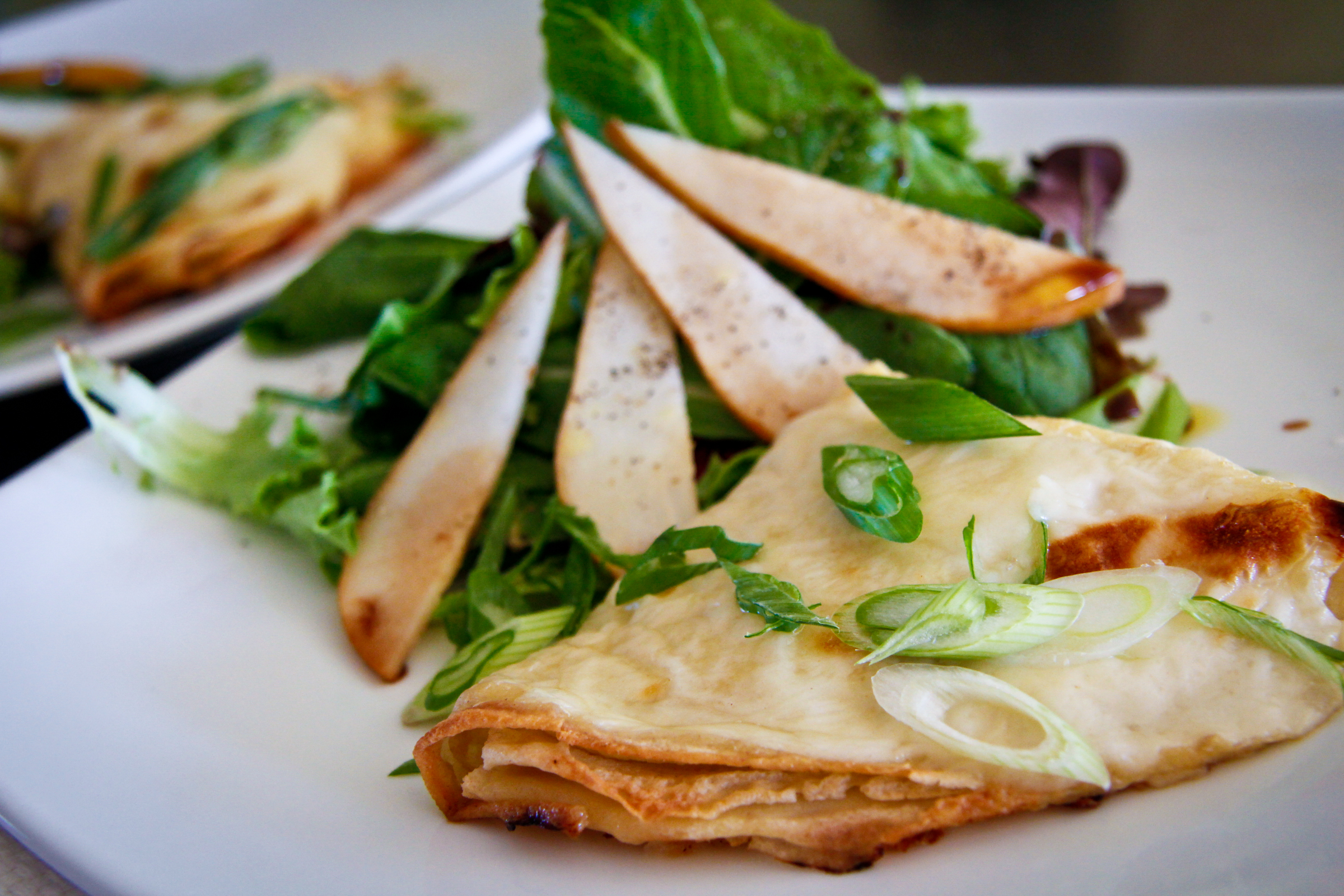 What in the hey are crepe monsieurs (or crepe misters in English) you might ask?  It's my made up spin on a classic French croque monsieur.  What is a croque monsieur? It is basically a glorified, yet glorious rich ham filled and cheesy bechamel covered sandwich.  I got the notion to make this from watching one of my new favorite movies, It's Complicated. Remember that scene where Meryl Streep pulls out a delicious croque monsieur hot out of the oven?  Yum!  I figured that since I blogged about making crepes, I might as well show you how I use them AND satisfy my craving for a deluxe ham and cheese sandwich at the same time.  The best thing about these stuffed crepes is that they taste very identical to the classic croque, yet feel lighter.  
If you don't feel like making crepes, no matter how easy they really are, alright, I hear ya.  Just go buy pre-made crepes at the store.  Yes they sell them like that.  Or I guess you could really just use this recipe on sliced bread if you wanna.  Don't matter to me.
The surprise element is the zing you get from the light slathering of dijon mustard on the inside, which is the perfect compliment to the richness of the gruyere cheese sauce and salty-sweetness from the ham.  Serve it alongside a simple seasonal salad and you've got yourself a little fancy meal my friend.  Check out how I make them in our 2nd video!
Crepe Monsieurs
These are great for brunch or for a first course for a dinner party. Actually, they're so delicious, they're good any time.
Ingredients
2 Tablespoons unsalted butter
2 Tablespoons AP flour
½ cup chicken stock
½ cup milk (I use skim, but you can use whatever you have)
1 cup shredded Gruyere cheese
Salt to taste if needed
4-6 pre-made crepes, either store bought or homemade (see recipe)
Dijon mustard
Sliced deli ham any style (i used honey ham)
Sliced scallions or any fresh herbs for garnish
Instructions
Preheat the oven to 400 degrees F.
In a saute pan over medium heat, melt the butter, then add the flour and cook together, stirring vigorously to make a paste. Using a whisk, stir in the chicken stock and milk. Let it thicken for about 1-2 minutes. Make sure it doesn't get too thick like a porridge. If it does, thin it out with more milk. Turn off the heat and add in your Gruyere cheese. Taste and season with salt if needed.
To assemble the crepes, place them on lightly greased baking sheets. Lightly spread with mustard on the bottom left quarter of each crepe, add two or three slices of deli ham, then top with a tablespoon of cheese sauce. Fold the crepes in half, over the filling, then fold again into quarters, to make a triangular shape.
Spoon another tablespoon of sauce on the tops of each of the folded crepes and spread it around a bit. Bake for 5 minutes. Turn on the broiler and broil for 2-3 minutes, or until the topping is bubbly and lightly browned. Serve hot. Garnish with sliced scallions or any fresh herbs of your choice.