Fresh and Roasted Vegetable Sandwiches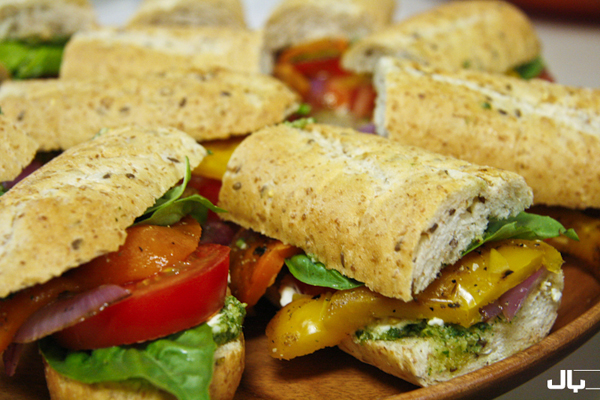 I got the idea to combine fresh and roasted vegetables into one delectable don't-even-miss-the-meat sandwich when working with my former boss.  She made a TV appearance and I had to help prepare the segment by getting together the ingredients for a cooked and raw salad.  I thought the idea was so obvious and yet so inventive!  Yeah, why not combine the cool crunch of juicy fresh veggies with the soft smoky sweetness of roasted ones?  
I like my meat just as much as the next person, but sometimes, all I crave is this.  For you serious carnivores out there, don't knock it til you try it, alright?  The robust flavors will punch you in the face.  I've had some hefty meat-lovin' guys try it and say that it was delicious.  Who knows, you might be amazed.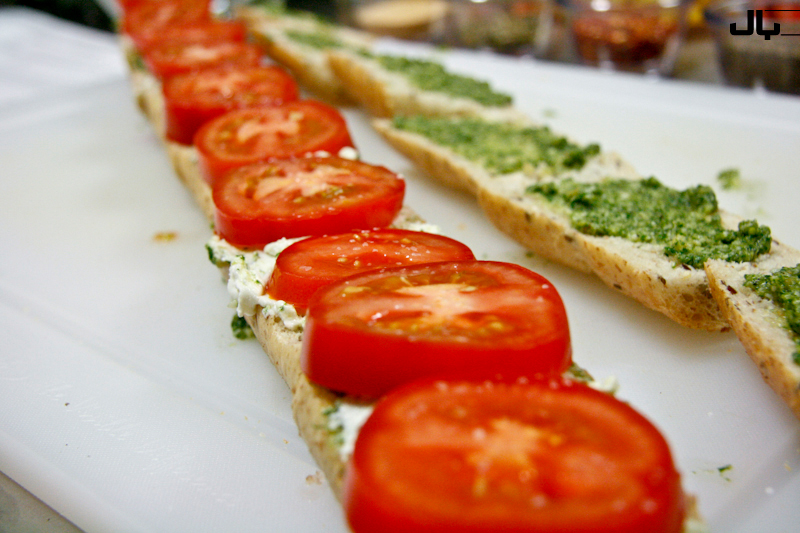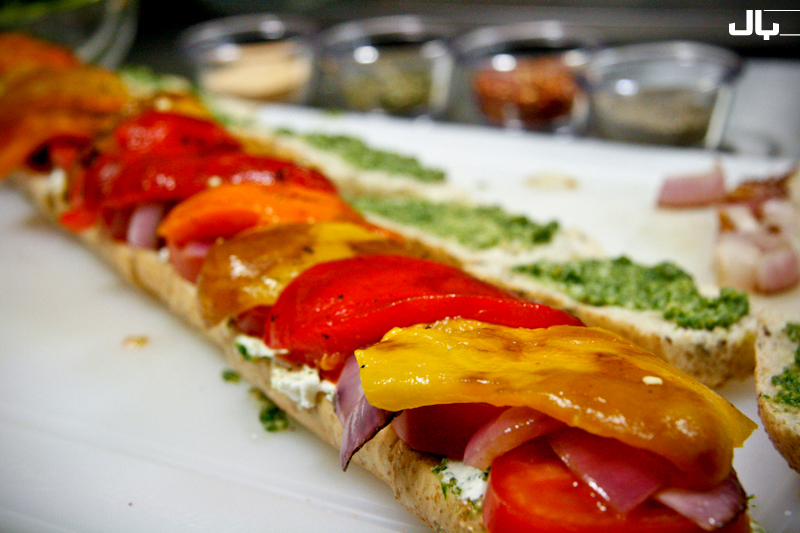 I say these petite sandwiches are a feast for the eyes with the gorgeously vibrant colors, but trust me, it's also a party for your mouth and your satisfied tummy will thank me!

Fresh and Roasted Vegetable Sandwiches
These sandwiches are perfect for parties. Cut them up even smaller and they can be appetizers. Bam.
Ingredients
½ of a red onion, cut into ½" thick round slices
Olive oil for the pan
1 red pepper, peeled and roasted
1 orange pepper, roasted and peeled
1 yellow pepper, roasted and peeled
Salt and freshly ground black pepper
½ cup basil pesto, homemade or store-bought
2 multi-grain or plain baguettes each split & cut into 3 equal pieces
Cream cheese or goat cheese to taste
2 plum tomatoes, sliced into thick rounds
Whole fresh basil leaves for garnishing
Instructions
Slice each baguette into 3 even pieces. Slice each piece in half lengthwise to make top and bottom halves for 6 sandwiches.
Heat a pan over medium-high heat with a drizzle of olive oil. Place the onion rounds into the pan and then sprinkle with salt and pepper. Cook the onion until just tender and set aside, about 3 minutes per side. Cool completely and slice the rounds in half.
Roast the peppers by placing them directly on a gas burner and charring their skins evenly on all sides. Place them in a closed paper bag, or Ziplock bag until cool to loosen their skins. Peel all the peppers. Remove and discard the stems, piths and seeds.
Spread some cream cheese or goat cheese on both the top and bottom halves of the baguettes. Spread some pesto on top of the bottom halves only.
Top with the tomatoes and sprinkle lightly with salt and pepper. Arrange the cooked onion slices, roasted peppers and basil leaves over the tomatoes. Place the top pieces of baguette on top of the vegetables. You will end up with 6 3-inch individual sandwiches. Serve at room temperature.