I Have Nothing to Wear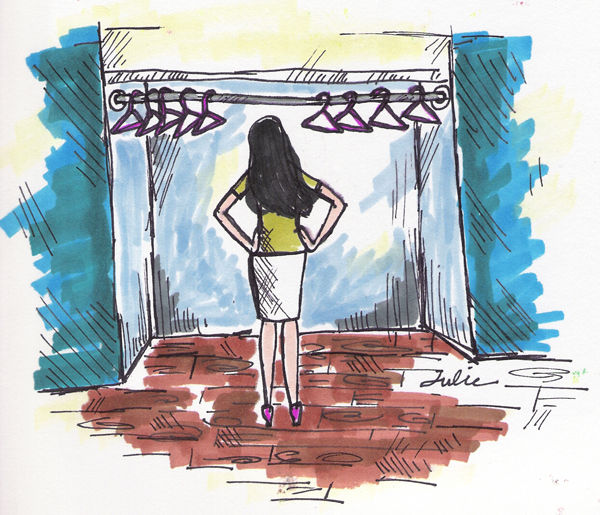 I vowed to myself that I'd never become one of THOSE girls who stared into her closet for 10 minutes before shouting, "I have nothing to wear!"  I always thought that statement was ridiculous.  However, I think as a female, that's an unavoidable phrase in one's lifetime.  True, due to financial pinching, I have been more patient than the average bear and have not gone clothes shopping in I seriously don't remember when.  It KILLS me!  Most money went towards developing my business, buying new platters or something, but still, even I don't have a legitimate excuse to say that phrase.  In reality, we all have SOMETHING to wear, we just don't like our choices or get bored of staring at the same stuff.  
I spend most of my days doing something food related: testing recipes, cooking, baking, shopping for ingredients and supplies or researching other recipes.  Today, with my husband gone to shoot a wedding, I decided to stay put at home and go through all my drawers and closets and purge.  Most of the time that I feel like I have nothing to wear is because certain items are worn out, have a small hole or missing button, don't fit right or are ugly.
Well, I decided there's no reason to depress myself by thinking, "I will squeeze myself into those jeans again one day."  I mean, maybe I will, but I'll cross that bridge if I get there.
Thank goodness for vacuum seal bags we used to transfer all our stuff over when we moved.  I picked and sorted and thought about which things were not up to par and threw them into the plastic bags and now they are nestled under our bed.  When I either lose weight or a trend comes back in style or I finally feel like sewing that pesky button back on, I'll pull them out again for further examination before deciding to donate them to Goodwill.
Although my drawers are lighter and my closet has a lot of empty hangers dangling in there, I do feel strangely happy.  My outside doormat reads, "Live life simply."  I think I should follow its advice.  Even though I have less clothes to look over every morning, at least I know that they all fit right, look right and are decent enough to wear in public.  And if I do eventually go clothes shopping, at least I now know which staple items I'm missing and can aim to gather the right items of clothing. Hopefully I don't have to exclaim, "I have nothing to wear…" well, for at least a few more months.