Welcome to California Banana Chocolate Chip Muffins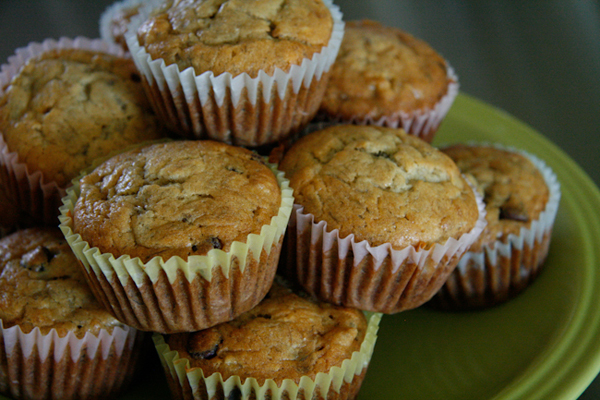 If you know me personally then you know two things about me.  One is that I don't necessarily enjoy baking because it's so precise, and the other is when I do bake, it usually includes bananas.  I feel like bananas are the baker's cheating ingredient. Your baked goods will always come out good, moist and naturally sweet when you use ripe bananas.  Plus, I always have them around and inevitably, they turn black and mushy before I know it, so I have to use them up somehow.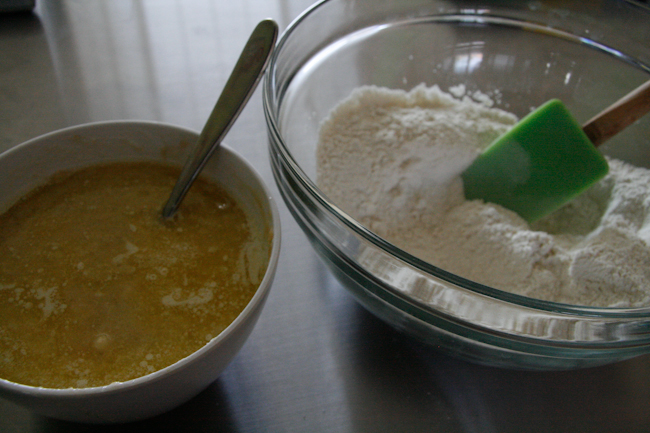 My friend Shauna was on a 6-hour plane ride heading over to visit me from the east coast and I knew she'd be coming in pretty late at night… and maybe a little hungry. While waiting for her, I looked at my black mushy bananas and thought I'd give a new recipe I was testing a try.
I'm usually from the school of room temperature butter, sugar and whipping until light and fluffy for the base of most baking.  However, with Shauna on the way and me not wanting to dirty more unnecessary dishes or equipment, I decided to use melted butter and dump all the ingredients together and this worked just fine.  No electronic beaters needed.  Everything was done with a rubber spatula and muscle.  I don't know if I'd recommend using this method for my banana bread recipe, but maybe I'll try it one day.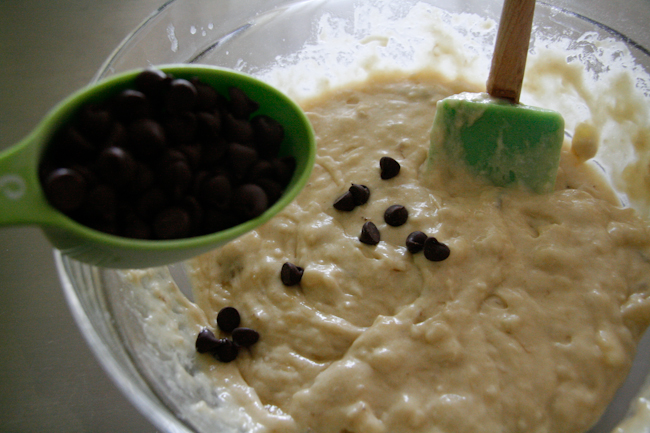 I'm not a chocolate fan, but I happened to have some semi-sweet morsels on hand for peanut butter chocolate chip cookies I was going to bake for some friends, but ultimately got too lazy to do.  My husband and I aren't the types to munch on chocolate, so I decided I might as well use them before they get too old sitting in my pantry and I end up throwing them away, which I hate doing.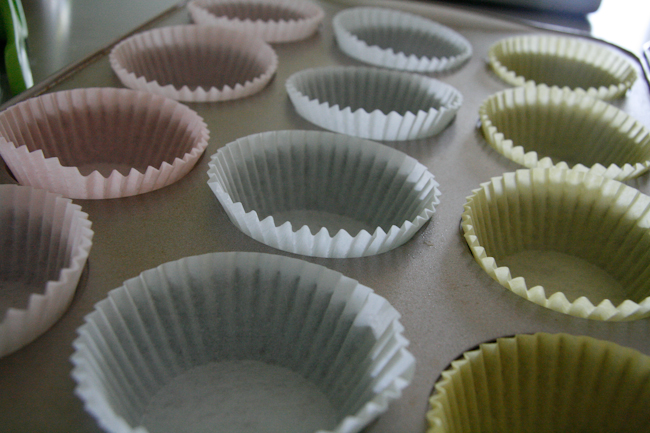 I was pleasantly surprised to search my cabinets and find paper baking cups lying around for some odd reason.  I still can't remember when I bought them.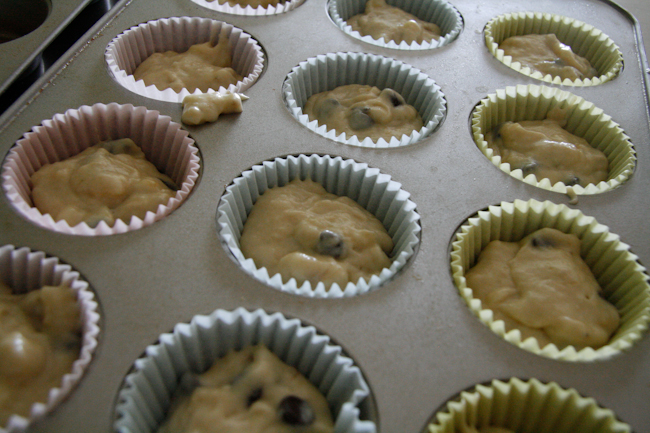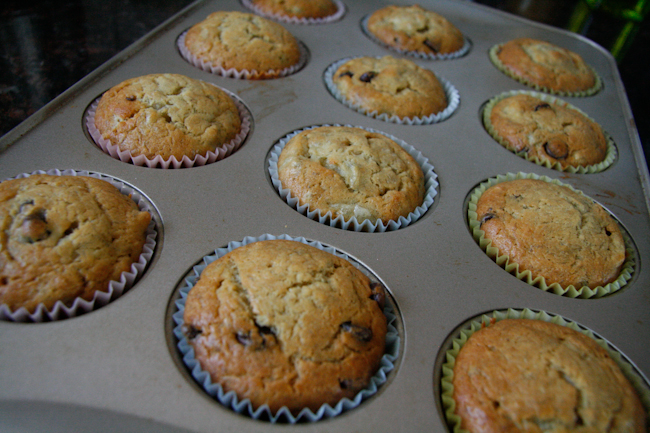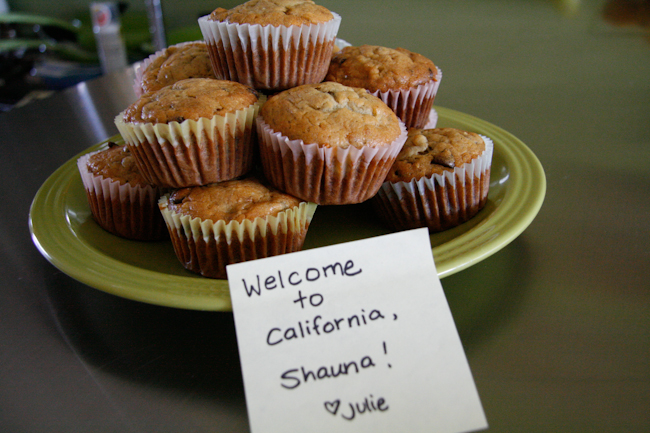 Once they popped up nice and golden brown, I stuck a post-it on the plate with a little greeting.  This ghetto gesture was the perfect vehicle for putting a smile on Shauna's face.  I miss my buddy already.  I hope she comes back for another visit soon!

Welcome to California Banana Chocolate Chip Muffins
No special machinery needed. Dump the ingredients in a bowl and mix away!
Ingredients
1 ½ cups all purpose flour
½ cup sugar
1 teaspoon baking soda
¼ teaspoon kosher salt
3 large mashed ripe bananas
½ teaspoon vanilla extract
1 large egg
½ cup unsalted butter, melted
¼ cup milk
½ cup semisweet chocolate chips
Instructions
Preheat oven to 350°F.
Line your cupcake or muffin pan with cupcake liners. Mix flour, sugar, baking soda, and salt in a large bowl. Mix mashed bananas, egg, melted butter and milk in a separate medium bowl. Stir banana-milk mixture into dry ingredients just until blended with a rubber spatula (do not over-mix). Stir in chocolate chips and mix.
Divide batter into the lined cups, filling each about ¾-almost full. Bake muffins until tops are pale golden and a toothpick inserted into the center comes out with some melted chocolate attached but clean of batter, (about 26-27 minutes or more depending on your oven). Transfer muffins out of the pan to cool completely. Store at room temperature in an air-tight container and eat within 3 days.