Fashion and Bubbles
In case you haven't figured it out by now, I no longer work at Whole Foods as a demonstration chef and I've moved to California.  I know.  Not a bad way to go.  I am back to being a freelancer for the moment, but along with that title (and the state of this economy) comes the flexibility to jump around and take any job that comes your way.  In case you didn't read in our about us section that I used to be a fashion designer, here is proof that I was.  
My friend, Yen Do who also has a website, asked me if I could assist her and the head main stylist, Eejay Jung with wardrobe styling for a Samsung washer commercial that would be shooting at Paramount Studios.  Now beggars can't be choosers so although this is unrelated to food, I decided to dust off my RUSTY sewing skills and jump on board for the shoot.
Who knew this world of wardrobe styling was so crazy?  We started out by shopping at tons of stores, both high end and low…. picking, putting back, then picking, putting back.  Then we had a meeting for approvals (and rejections) from the director, producer and creative director, more last minute shopping, a long day of fittings at the penthouse of the Luxe hotel with the models and then a day (and whole night) of alterations, done by Yen and me.
All this happened even BEFORE the craziness of the actual shooting days, which is a story in itself.  I did learn a lot and was royally impressed with the spread of amazing FOOD from craft services, which included a sushi buffet and steak on an outdoor grill…. NICE!  One of the things I walked away with was the annoying, but catchy song they kept playing continuously for 2 days straight to portray the theme for this washing machine commercial.  The lyrics basically kept repeating "bubble, bubble."  If you look at the photos below, you'll understand why.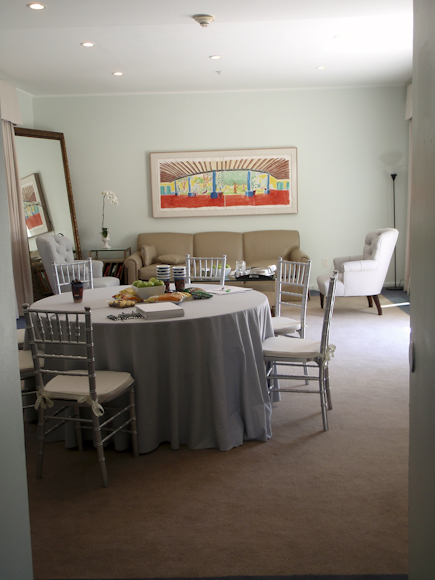 This is the penthouse of the Luxe hotel where we had our fittings.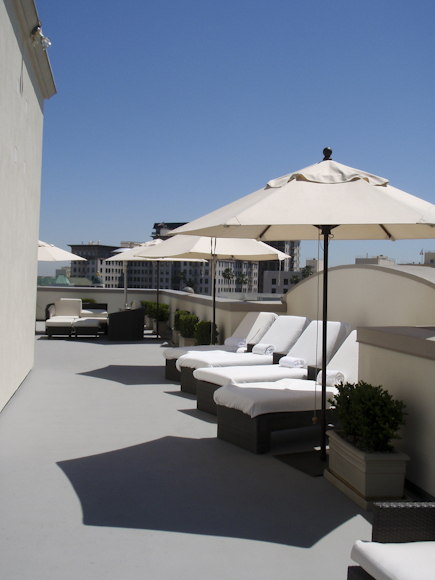 This was attached to the Penthouse and wrapped all the way around.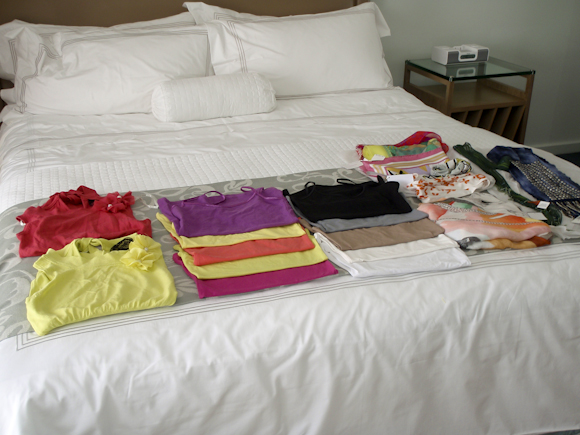 Here is just a snippet of some of the tops we picked out for the fitting/ approval meeting.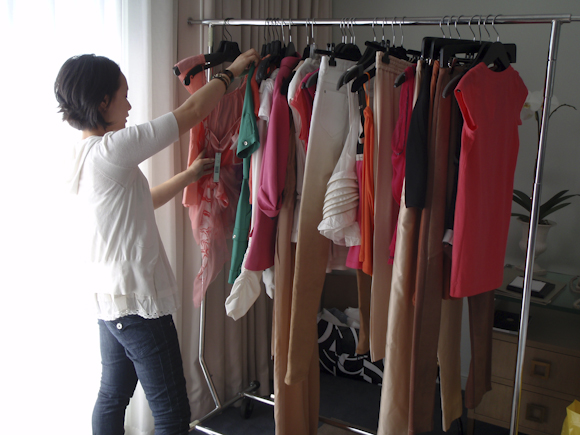 Yen, hard at work, thumbing through some of the possible choices.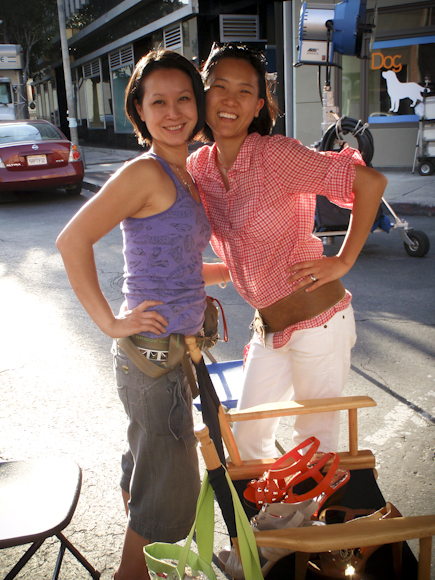 This is Yen (left) and Eejay (right).  Eejay has done TONS of Korean commercials and is considered the best of the best in wardrobe styling for them.  Yen has worked with Eejay on certain projects for 4 years now, but also does main styling on her own.  She most recently shot a Coldstone commercial.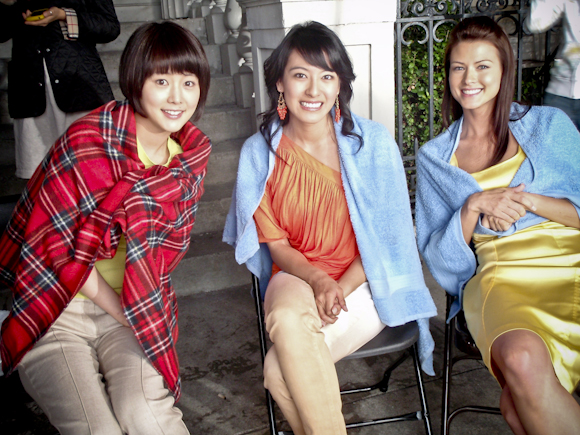 Here are 3 of the models we took care of.  The one on the left was flown in from Korea.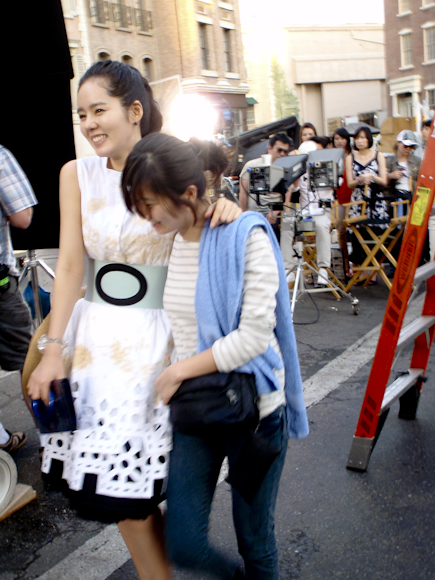 Here is my paparazzi shot of the main star of the commercial (in the white dress).  She is an actress/model they also flew in from Korea.  She was treated specially and separately so I could rarely get a shot of all 4 of the models together.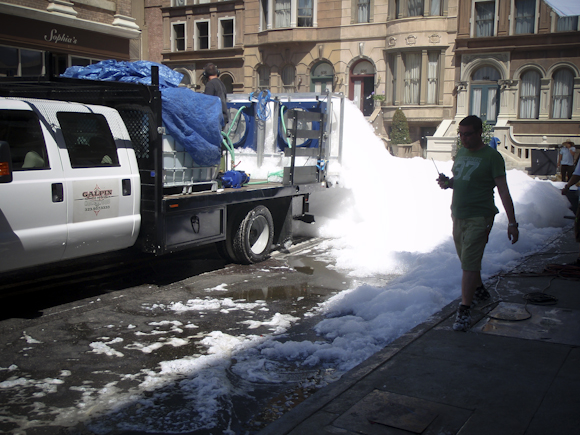 Here come the bubbles!  They wanted to make it seem like the streets were being flooded with bubbles (for the washing machine part) and so they literally flooded the street with bubbles!  I've never seen such a crazy thing!
I'm finally in one of these pictures, here with Erica Taylor, a US model, but just the side-view of me.  At times, we all had to jump in the bubbles and take care of the models, wiping the suds off the clothes.  It was fun!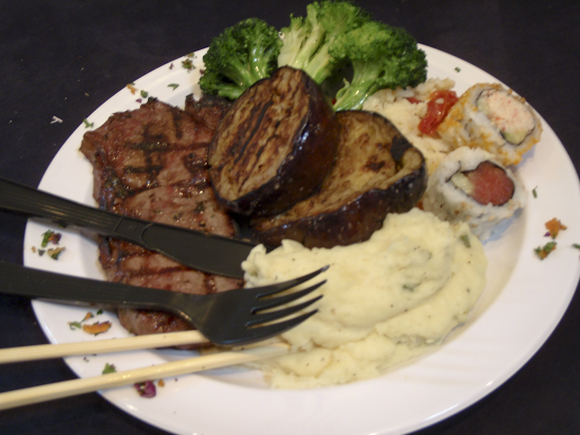 YUM… here is my selection of craft service food which also included sushi, grilled eggplant and steak!
Since the commercial is an international one, meant to air only in Korea, I'm gonna have to wait a while and then try to find it on You tube somewhere.  All in all, it was a good experience, but I couldn't wait to get back into the kitchen!