Moving March Madness!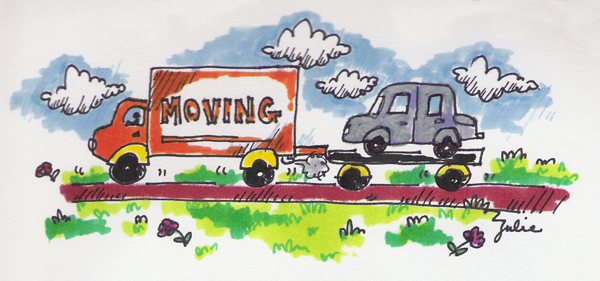 Joe and I have not been updating this blog at all because of our (sudden) big transitional move this month to the west coast.  Yes that's right… we're moving to Orange County, California!  In fact, we happen to be in Chicago right now in one of our pit stops on our long cross-country drive to say our farewells to his parents.  
We have a 16 foot moving truck with an attached trailer holding our car on a platform.  Don't get me started on the craziness we've encountered so far in this first leg of the trip.  In a nutshell, it goes a little something like this… we packed and loaded our big King-sized stuff into the truck all day (with the help of a few of our awesome friends, Dan, Eric and Shauna).  But then, after the guys left, Joe, Shauna and I kept loading it and cleaning the apartment until about 12am!  Why oh why did it take that long?  At one point, I was ready to just set our truck on fire and burn it all.
Then after trying to park it in several illegal spots, without the ability to back up, and one very frustrated husband, we finally decided we had no other choice but to just start driving it and park it at a hotel lot.  So off we went at about 2am, dirty, sweaty, tired and down cast to hit the dark dimly street-lamp lit roads.  We finally pulled into a Best Western hotel around 3:30am, took up about 7 parking spots, showered and knocked out, only to get up 4 hours later to hit the road again.  But we're in one piece, revived, happy and still excited to get to our new home.  California or bust!
Needless to say, I've already googled to see where the nearest farmers markets are in relation to our new home and I can't wait to cook with more locally grown organic products.  Bring on the fresh fruits and veggies!
What else… Oh!  Joe has had one final job before moving.  He has taken engagement pictures for our friends, Christina and Jason and they were nice enough to post them on their wedding website.  They told me they've already received tons of compliments.  I'm so excited for Joe about that…but I truly do think he has "the eye" for it.  This may be another career path in the making soon.
Thanks for reading!  Bye bye east coast.  We'll miss you, but hello new home!